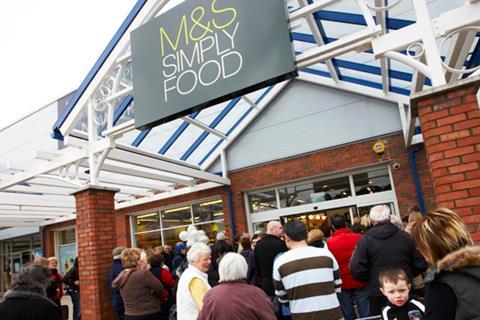 Marks & Spencer's chairman said Northern Ireland's supply chain issues are "about to get worse" due to Brexit's impact on the movement of goods between Great Britain and the island of Ireland.
Writing for the Mail on Sunday, Archie Norman warned Northern Ireland customers could see a further "substantial reduction in food supply" as well as an increase in supermarket prices once the current grace period ends on 30 September.
The country has been given a Brexit grace period until the end of September, after which it will have to follow the stricter EU import rules on supermarket goods coming from Great Britain as a way to avoid a hard border on the island of Ireland.
Last month, M&S asked for a six-month extension to the start of checks from Great Britain into Northern Ireland.
"At the moment, the Irish government is following EU guidelines and implementing their draconian controls. But by contrast, the UK has allowed EU products to continue to flow into the country, no veterinary checks, no border inspection," Norman wrote.
"Starting in October, that is going to change when UK government rules are set to mirror those of the EU. So in a mutual act of self-destruction, we risk lumbering French cheese producers and Spanish chorizo manufacturers with the same costs as we have faced trying to export food to the EU."
M&S has already had to cancel the sales of its top-end range Christmas Food to Order into Northern Ireland for fears it cannot deliver the products when the holiday period comes.
Norman added the extra bureaucratic workload at the border means "only 80% of M&S products are now getting through to Ireland".
While the chairman did not say which specific lines or products would be hit the hardest, animal-related ingredients typically face the toughest checks.
A spokesman for the supermarket also said most of the problems are around products that have a short shelf life, as delays at the border can result in those items having to be destroyed.
He added there is still "uncertainty" as to whether the government decides to extend the easements beyond the grace period, which means the retailer will only have a "clearer idea of what Christmas looks like in Northern Ireland" in October.
At the same time, M&S has resorted to doing more local sourcing on the island of Ireland to avoid Brexit-induced bureaucracy.
Norman called for an agreement on "equivalence" between the EU and the UK, which would see them recognise each other's food standards and trade freely without checks.
He said the current protocol results in a "fandango of bureaucracy, extra costs and food waste". Back in May, M&S said it faced additional costs of £27m-£33m on the island of Ireland because of Brexit.