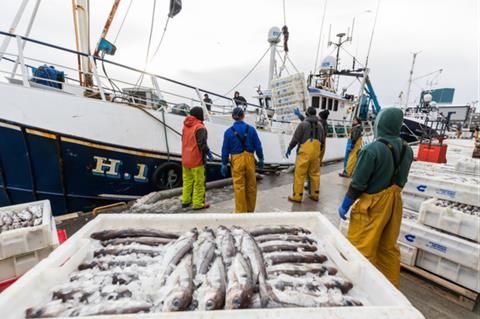 Scottish seafood processors are being "cut out" of the seafood supply chain as vessels have begun landing their fish directly into the EU to avoid Brexit disruption, Scotland Food & Drink has warned.
It follows warnings from trade body Seafood Scotland last week that "layer upon layer" of Brexit-related administrative issues and delays for exporters could lead to the "destruction" of the nation's seafood market.
Posting on Twitter yesterday (12 January) after discussions with Seafood Scotland, Scotland Food & Drink CEO James Withers spoke of some fishing vessels (understood to include English and Scottish boats) that would normally land their catch in Scotland instead turning to Danish ports. The sector was losing upwards of £1m in sales a day, he added.
Withers said this route had become more attractive to some Scottish fishermen due to the Brexit bureaucracy they faced should they take their catch to Scotland.
He added that the situation was looking "grim for seafood" in the country, with about a third of the Scottish fleet currently tied up in harbour amid a crash in prices of 80% for some fish species at the key market of Peterhead.
"If boats fish in UK waters, but land in Denmark, processors here are cut out of trade," he wrote on the social media platform. "If this becomes a new pattern, it's a huge concern for processors.
"Most hauliers [are] still not taking groupage. Bureaucracy too complex & IT systems creaking. A few started again yesterday, but very small volumes. So, road to EU market is now blocked for many food exporters."
Withers' comments came as logistics companies halted groupage loads to the EU in a bid to avoid disruption caused by post-Brexit red tape and paperwork – a measure that particularly affects the fresh seafood sector.
The Scottish government said it was keeping in regular contact with the industry to ensure "everyone knows what needs to be done" to export to the EU. It also blamed the UK government for failing to help companies.
"The costs to seafood and other businesses have already run in to millions of pounds in lost contracts, reduced prices for fish, extra costs and lost custom," said Fergus Ewing, rural economy secretary for the devolved administration. "It is not acceptable for the UK government to expect businesses to bear these costs without providing any assistance."
In response, Defra said it had introduced "a range of measures" to make sure seafood businesses were prepared for new post-Brexit rules. The UK government is understood to be reviewing the need for additional targeted actions to ease the situation.
Holyrood has criticised the Brexit deal in recent weeks after its own analysis of the document found the Scottish fishing industry stood to lose quota on key whitefish over the next five years.
According to the devolved administration's figures, the country's fishing fleet will endure a real terms drop in allowable catches for key species, such as North Sea cod (catch reduced by 6.5% against pre-Brexit levels), haddock (down 8.3%) and saithe (down 5.6%).
The amount of fish caught by the Scottish industry is also set to fall as the Hague Preference – a bespoke scheme that gave Scottish boats extra quota – ended when the UK left the EU. Holyrood said this would lead to a further loss of fishing quotas worth more than £9m.