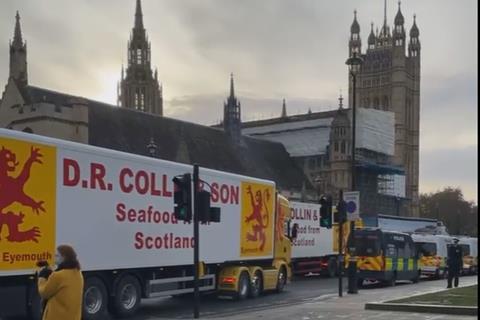 Dozens of seafood lorries have descended on Whitehall to protest the post-Brexit border issues wreaking havoc across the sector.
Seafood industry groups have demanded urgent support from the UK government, complaining of serious disruption to European shipments that threaten the future viability of boats across the country.
Confusion over paperwork, additional documentation, and IT problems have all caused delays, while many smaller businesses were hit last week by logistics companies suspending mixed loads of goods to Europe due to the issues.
On Monday morning, seafood businesses took to London's roads to raise awareness of the issue, covering their lorries in slogans such as "Brexit carnage" and "incompetent government destroying shellfish industry".
Jamie McMillan, MD at Loch Fyne Seafarms, said last week if Scottish businesses continued to be hampered in their attempts to export, "we will be at the gates of Westminster and we'll be dumping our shellfish on your doorstep rotten".
No rotten seafood is known to have been dumped, but the demonstration is a clear display of the frustration within the industry.
James Withers, CEO of Scotland Food & Drink, said the anger felt by many seafood businesses at losing access to EU markets had been stoked by government ministers "dismissing this crisis as 'teething problems' or worse still, trying to make jokes about it."
Commons Leader Jacob Rees-Mogg said last week that fish are now "better and happier" for being British during a parliamentary debate on compensation for Scotland's fishing industry.
On Friday, the Scottish Fishermen's Federation, previously a vocal advocate of leaving the EU, wrote an open letter to the government calling the EU trade agreement "desperately poor".
"Your deal actually leaves the Scottish industry in a worse position on more than half of the key stocks and now facing acute problems with North Sea cod and saithe in particular," it said.
Responding to the letter, a Defra spokesman said the UK has secured a 25% transfer of quota from EU to UK vessels over five years, which "will bring immediate gains to our fishermen and women across the whole UK".
"We recognise the Scottish fishing industry is facing some temporary issues following the end of the transition period, and we are looking at the additional financial support we can provide to those businesses affected."