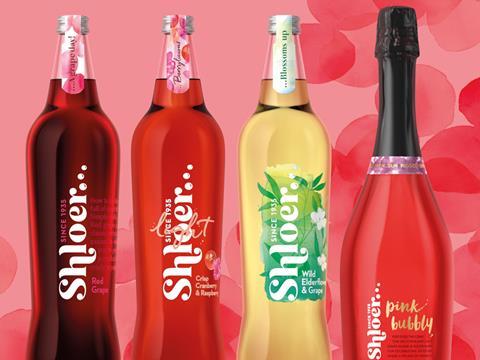 SHS Drinks is preparing to avoid next year's sugar tax by axing added sugar across its Shloer portfolio.
A major brand relaunch next month will be spearheaded by the reformulation of all eight variants in the original, Fruit Fusions and Celebration ranges – which will no longer contain added sugar, thereby being excluded from the April 2018 levy.
At between 9.7g and 11.4g of added sugar per 100ml, the current recipes would incur the higher levy charge for drinks with 8g or more.
The eight drinks will be sweetened instead by extra fruit juice: Shloer Red Grape, for example, is set to rise from 29% juice to 57%. Its calorie content will fall slightly, from 49kcal per 100ml to 42kcal, in line with minor reductions across all the other revamped SKUs. However, calorie reduction wasn't a key part of the reformulation rationale, said SHS. The focus was to enhance the quality of the liquid.
The entire Shloer portfolio has also been given a fresh look, including the addition of a lollipop-shaped neck label to "reinforce the taste credentials in a fun and colourful way". The two prosecco-style SKUs in the Celebration range have had the metallic colours of their foil seals changed to matte black to emphasise the premium nature, and the Fruit Fusion trio has been given a "vibrant" redesign.
Backed by a digital push, the relaunch will include the addition of Crisp Cranberry & Raspberry, the third in the Shloer Light range sweetened with stevia.
Shloer's revamp follows this month's rollout by SHS of Bottle Green Sparkling Infusions – a trio of gently sparkling waters infused with natural fruits and botanicals. Refreshing Coconut, Raspberry & Pomegranate and Delicate Elderflower each contain 3.9g of sugar per 100ml (rsp: £1.29/250ml).