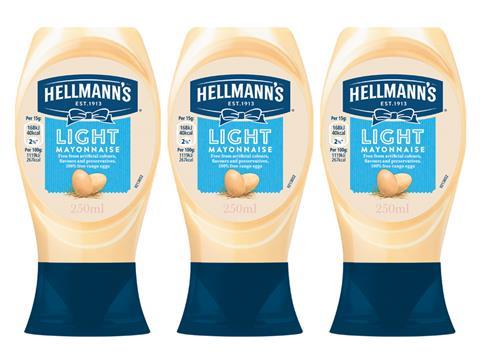 Hellmann's is to introduce a 'new and improved' Light mayonnaise as part of a wider brand refresh backed by a £7m campaign.
Scheduled to land on shelf "just in time for Easter", the new Light recipe will no longer contain artificial flavours, colours or preservatives, in a move to satisfy growing consumer demand for 'natural and sustainably sourced' ingredients, said the Unilever brand.
It comes as redesigned packs featuring a "more contemporary, deli-inspired colour palette" roll out now across the whole Hellmann's mayonnaise portfolio – though the blue ribbon motif first used by founder Richard Hellmann in 1913 remains.
The relaunch – to be backed by a £7m push called On the Side of Food – heralded "another exciting year of real transformation" for the UK's leading name in mayo, said Hannah Webb, Unilever's senior brand manager for Hellmann's. The changes would "permeate across everything we do moving forward", she added.