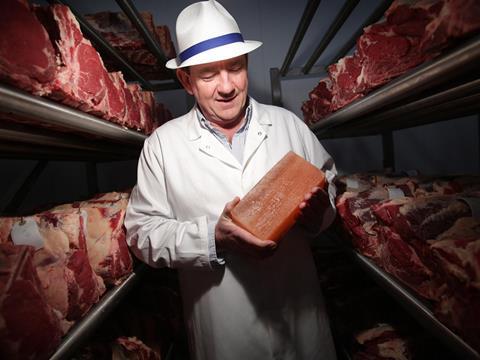 UK meat suppliers fear sales to Europe could collapse overnight unless hauliers maintain full access to the continent following the end of the Brexit transition period.
Three-quarters of UK hauliers could be left without a permit to drive into Europe from 1 January, when lorries will lose their automatic right to provide road transport services, as a result of leaving the single market.
Instead, they will have to apply for permits via the European Conference of Ministers of Transport (ECMT) scheme, under which the UK is expected to receive 2,088 permits, a significant shortfall on the 8,348 UK registered international road hauliers last year.
The move to the ECMT scheme will be reciprocal, meaning EU lorries will also be limited in the UK, unless Downing Street and Brussels can reach an agreement by the end of the year.
Failure to do so will not only restrict the number of lorries available for British companies, but will limit how many deliveries they can make within Europe. ECMT permits do not allow for cabotage, meaning hauliers would only be able to make a single drop-off within the EU.
"Many of our lamb suppliers are delivering to five or six different customers, sometimes across two or three member states, because we're able to deliver lamb as quickly as domestic suppliers in their own market," said Peter Hardwick, trade policy advisor at the BMPA.
This allows European buyers to receive daily deliveries of small quantities, manage their stock levels, and make orders largely on a just-in-time basis.
Any changes to this would be "highly disruptive," said Hardwick, "and will mean the competitive advantage we had in being able to supply flexibly across European markets will be lost".
A possible haulier shortage is one of the "fundamental things still to be resolved" to ensure meat sales to Europe are uninterrupted next year, said Phil Stocker, CEO of the National Sheep Association.
"There's going to be a lot of people who try to ship lamb early this year in advance of any hiatus in early January," he said. "That may well lead to a bit of a shortage in the UK."
British fruit buyers have begun redirecting routes away from cross-Channel 'ro-ro' ports in order to avoid potential disruption, using container ships instead into ports such as Liverpool and Tilbury. While some in the meat sector are looking at this as an option for export, there are doubts over its practicality.
"If you put things on a ship it's slower. You've got a limited shelf life chilled product here, why would you do that?" said Hardwick.