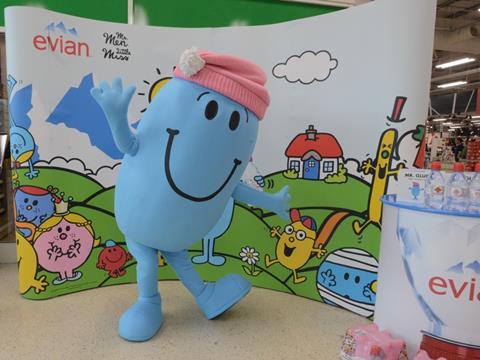 Water brand Evian has teamed up with Mr Men owner Sanrio to create new character Mr Glug.
Mr Glug is described by Evian as: "A very busy fellow, who enjoys going to galleries, rollerblading and all sorts of sports." He also changes colour when thirsty.
Evian and Sanrio have launched an online hub where Mr Men/Little Miss fans can play games, win a Mr Glug e-book and download a free sticker book that can be completed using stickers available on Evian Mr Men/Little Miss 9x33cl multipacks from later this month.
Mr Glug will also be touring selected Tesco stores throughout September and will be signing copies of his new book.
"This is the first time Evian has worked with Mr Men/Little Miss and we have loved every minute of it," said Melissa Loan, shopper marketing manager for Evian owner Danone Waters.
The Mr Glug tour, which is managed by brand activation agency N2O Limited, will call at the following Tesco Extra: Cheshunt and Brooklands on 20 & 21 September; and Colney Hatch and Southall Hayes Bulls Bridge on 27 & 28 September.