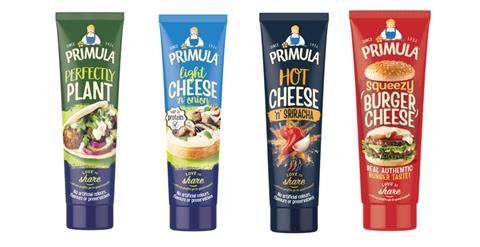 Primula has announced it will launch four new flavours of its spreadable cheese this month.
The new products from the cheese brand are Perfectly Plant (which was first announced by the brand last November), Light Cheese 'n' Onion, Hot Cheese 'n' Sriracha and Squeezy Burger Cheese.
Perfectly Plant is the first plant-based cheese available in a tube format and is designed for those pursuing a plant-based and flexitarian lifestyle. It will be available at Morrisons from 14 March (rsp: £1.60).
The brand's Light Cheese 'n' Onion variant will be available in Asda (rsp: £1.60) and has 40% less fat than the rest of the cheese range and is high in protein and calcium, with no artificial colours. It will go on sale on 19 March along with the Hot Cheese 'n' Sriracha flavour, which will also be stocked in both Asda and Morrisons.
Meanhwile, Primula's Burger Cheese offering (which had a successful release in Home Bargains in September 2021) has now secured wider distribution. It will be available in Morrisons and Sainsbury's (rsp: £2.50/290g) before the end of the month and offered shoppers "an authentic burger cheese taste".
"Primula Cheese works closely with its loyal consumers to understand the new and emerging flavours exciting them, and those that they want to see available on supermarket shelves," said Lisa Thornton, head of marketing at Primula owner, Kavli UK.
"The demand for new flavours has led to not one or two new flavours but four new flavours from our much-loved kitchen staples," she added. "All of the four new flavours will be sold in Primula's new recyclable tube format.
"Sustainability and innovation are among the central pillars to Primula's success, longevity and continued growth."