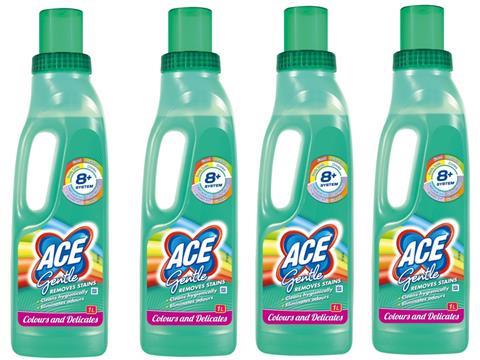 Robinson Young is to take over UK sales, marketing and distribution of laundry brand Ace Gentle from Proctor and Gamble.
The Bury St Edmunds-based business, which has more than 40 years' experience, will take responsibility for the stain removal detergent from September. The move follows the 2013 acquisition of Ace by Fater SPA – an Italian joint venture between Angelini Group and P&G.
The Ace products, which are available in a one-litre liquid bottle and a 14-unit capsule pack, are stocked by retailers including Sainsbury's, Waitrose, Asda, Bestway and Poundland.
Robinson Young MD Michael Robinson said he hoped the firm would grow the business in the UK closer to the levels seen in Europe - Ace Gentle has a 31.7% market share in Italy and 26.8% in Portugal compared with 1.3% in the UK.
Massimo Delfana of Fater SPA added: "As proven specialists in non-food, Robinson Young hasan outstanding track record of delivering sales growth and market share for its brands and is ideally placed to the take Ace to the next level in its growth journey. We are delighted to welcome them on board to drive the development of Ace Gentle in the UK."