Cannabis-derived CBD is tipped as the next big thing in adult soft drinks, tempting everyone from startups to giants such as Coke
Forget fizzy pop. We could soon be hit by a wave of fizzy pot. "Along with many others in the beverage industry, we're closely watching the growth of non-psychoactive CBD as an ingredient in functional wellness beverages around the world," the Coca-Cola Co told the world in September.

That's right. The world's biggest drinks company was talking about cannabidiol, a chemical derived from the cannabis plant. The comments came as Bloomberg revealed Coke was in talks about developing products with Canadian firm Aurora Cannabis. But don't freak out. Coke is at pains to point out that CBD doesn't get you stoned. Nor will it give you red eyes, a love of Creedence Clearwater Revival or a hunger for Wotsits. What it may do is help treat symptoms relating to conditions including Alzheimer's, Parkinson's, MS, anxiety and depression, as well as reducing inflammation, according to a 2017 WHO report.
Download the PDF version of this report
---
So, who's developing CBD products for the UK? Will they really take off here? And how is the wider market for adult-orientated soft drinks - hit with a multimillion-pound tax bill by the sugar levy and at the mercy of the growing wellbeing trend - performing?

Let's answer the third question first. Adult soft drinks - those sold as a mixer or, increasingly, as an alternative to alcohol or flavoursome and functional replacement for water - are flying. Take-home sales are up 11.4% on volumes up 9.6% [Kantar Worldpanel 52 w/e 9 September 2018].

This is significant for any drinks manufacturers considering adding CBD into their recipe mix, because a key driver of the overall market's growth is soaring demand for products containing botanicals purported to have health and functional benefits.
"Consumers are increasingly health-conscious and looking for natural ingredients"
"Botanicals will be a growing trend in 2019," says Ounal Bailey, CMO at Britvic-backed Wisehead Productions. "Consumers are increasingly health-conscious and looking for natural ingredients. Plant-based functional ingredients are also coming through - CBD drinks are the latest example of this."

That's not to say Britvic, which has a 75% controlling stake in Wisehead, or any of the giants of British soft drinks have let on about any immediate plans for new CBD-infused products. But it's a fair bet that big players throughout the food and drink industry are looking at it. Indeed, Wrigley heir and former CEO Beau Wrigley has tipped Canadian lozenge brand Mr Moxey's Mints as one to watch in 2019. In Canada, where recreational use of cannabis is legal, Moxey's range includes mints that contain THC, the compound in cannabis that gets you high.

Of course, there's no chance of such lines landing here at the moment. But the brand's British founder Tim Moxey believes its CBD-only lines will "help accelerate the normalisation and mainstreaming" of the ingredient over here. "We're already seeing a wave of ­support from stockists and customers [for our CBD mints] across the UK."
Tipping point
Some say the UK is reaching its tipping point for CBD "Retailers came slowly then all at once," says Simon Manthorpe, CEO of Eos Scientific, owner of the Ambience range of CBD-infused products, which is expanding from e-liquids and tinctures to cosmetics and soft drinks.

"Take, for example, Holland & Barrett, which is rapidly expanding the CBD products it stocks and inviting other players, such as our Ambience range, to place their products in stores. It is no surprise that Whole Foods has predicted CBD to be one of the top trends in food and drink for 2019. In fact, we'll be launching our own CBD-infused soft drink in anticipation of its retail popularity."
They're not the only ones. Newly opened Fitzrovia restaurant Kalifornia Kitchen is serving CBD-infused lattes, for example, and brands such as Wunder Workshop and Minor Figures have launched 'anxiety fighting' CBD oils for adding to drinks. Healthy Juice Co is set to launch a "couple of products with CBD oil" in 2019.

September saw the launch of what was claimed to be UK's first CBD-infused soft drink, Botanic Lab Tea, which is claimed to give drinkers 'Dutch courage without the alcohol'. "Consumers are increasingly bypassing alcohol in favour of soft drink options," claims Botanic Lab Founder Rebekah Hall.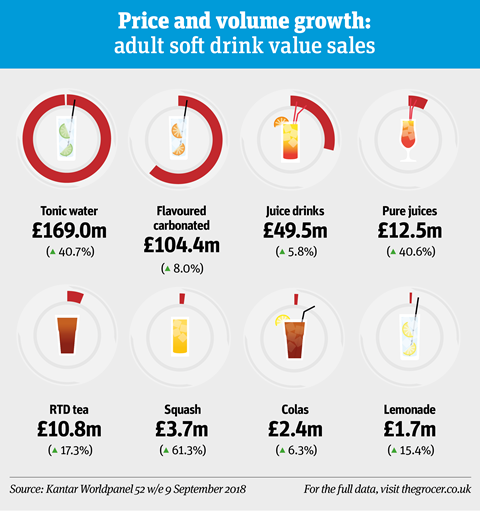 Find the full data at the bottom of this report

"But even in this day and age the non-alcohol choices are limited, boring and frankly a little flaccid. The introduction of this Botanical Tea Drink range is what we have been waiting for. Incorporating one of the most talked-about and culturally significant plant ingredients of the last 100 years, CBD Botanical Tea is ground-breaking."

CBD may be grabbing the headlines, but there's no shortage of drinks manufacturers making similarly bold claims about other ingredients. The launch of Firefly Love Potion is a case in point. Brand owner Purity Soft Drinks claims the addition of angelica - 'one of nature's naughtiest botanicals' - to this blend of passionfruit and blueberry gives the drink an aphrodisiac quality.

Such claims won't appeal to, or wash with, everyone. But the core proposition of the Firefly range is the use of ingredients claiming to offer a natural energy boost. That claim is striking a chord with consumers, says Purity sales director Joe Kilty.

"Three quarters of today's consumers are concerned about tiredness," he says, citing IRI and Mintel data. "Revitalising botanical drinks containing natural alternatives such as green tea and kola nut are the perfect antidote to sugary, caffeine-laden energy drinks. This is perhaps why Firefly is up 202% in the last quarter as the trend gains momentum."

Baobab is another ingredient that's being tipped for big things. Take Unrooted, a new three-strong range of drinks aimed at health-conscious adults looking for a natural energy boost. The drinks contain 10g of active baobab - prized for its high levels of antioxidants, vitamin C, potassium, magnesium, calcium, protein and fibre, which acts as a prebiotic in the gut - per serving.
"Revitalising botanical drinks are the perfect antidote to sugary, caffeine-laden drinks"
"Energy drinks still have too much caffeine and too much sugar, regardless of how they're dressed up," says founder Nathan Clemes. "Caffeine from green coffee beans is still caffeine. Agave syrup is still sugar. Unrooted doesn't rely on caffeine and sugar to give you a short burst of energy, followed by an almighty crash. Baobab gives your body the ingredients it needs to create its own energy."

Still, functionality will get you nowhere if your drinks don't taste good. And tastes are changing, with demand for more unusual, spicier and bitter drinks on the rise. Lisa Desforges, strategy director at B&B studio, a branding agency that's worked with the likes of Firefly and Fever-Tree, among others, expects further growth for kombucha in 2019. She points to new brand FIX8 as a case in point.

"Positioned for consumers for whom wellness is a positive addiction, FIX8 blends medicinal-grade herbs, extracts and essences for a bigger, better buzz and flavour you can feel from the inside out," she says. "It blends familiar flavours such as strawberry with complex and unusual ingredients like tulsi (holy basil), appealing to an increasingly adventurous and sophisticated palate."

Herbal flavours are also on the up, says Pev Manners, MD of Belvoir Fruit Farms. "Herbs such as basil, rosemary and lovage are proving popular, while 'healthy' ingredients like turmeric or matcha are also becoming more common," he says. "There seems to be an expectation that consumer appetites for more bitter drinks will grow - perhaps partly as we wean ourselves off sugar."

See also the growing distribution of Nix & Kix, which has won listings in Tesco, Waitrose and Ocado, among others. "People want exciting and delicious adult soft drinks that incorporate trending functional ingredients," says co-founder Kerstin Robinson.

"Our lightly sparkling drinks are infused with a hint of British-grown cayenne chilli for a natural pick-me-up. Cayenne chilli is widely known for its metabolism-boosting, endorphin-releasing and energising properties."
Mixers take a dark turn to keep up with spirits trends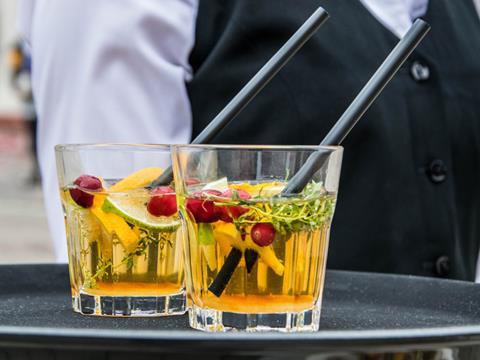 Dark spirits are soaring. Earlier this year, UK rum sales broke the £1bn mark for the first time, according to WSTA figures (driven primarily by darker rums). Then there's the whisky revival, which saw a whopping £34.6m growth in take-home sales over the past year (4.5%) to £805.3m [Kantar Worldpanel 52 w/e 17 June 2018].
Adult soft drinks players are adapting with a raft of NPD, including a new addition to Schweppes' 1783 lineup: a muscovado dark spirit mixer (see p48).
The NPD not only taps into the rise of rum and the like, but growing premiumisation, says Simon Harrison, customer marketing director at Schweppes parent company Coca-Cola European Partners. "The growing demand for premium spirits is increasing the popularity of premium mixers," he says.
But forget complicated cocktails - there's a distinct move towards simple, long mixed drinks with high-quality components, says Fever-Tree's marketing director Saskia Meyer. "We've identified that the same trends are emerging with dark spirits that led to the rise of premium gin consumption," she says.
"We've applied the same expertise as we used to create our tonics to craft a range of ginger mixers that perfectly complement the flavour characteristics of dark spirits. Together with dark spirit brands, we're reigniting simple, long dark spirit serves."
That's not to say white spirits have had their day. Fever-Tree's latest NPD is a tonic water developed especially for tequila in collaboration with Mexican tequila brand Patrón.
Premium mixer brand The London Essence Company (pictured left) reports a 360% uplift in grocery sales thanks to the demand for light mixers designed to flatter complex premium spirits.
The brand has also extended its full range of tonics, gingers and sodas into 500ml bottles, and NPD includes two new sodas: elderberry & hibiscus and white peach & jasmine.
Mixing it up
Of course, nothing (that's legal, at least) releases endorphins like alcohol. And one of the fastest-growing parts of the market is mixers. Tonic water, for example, has surged 56.2% on volumes up 53.8% [Kantar]. Brands such as Fever-Tree and Schweppes, relaunched by Coca-Cola European Partners in 2017 with the addition of premium sub brand 1783, are driving much of this growth.

Challengers such as Wisehead's London Essence Co and Lucozade Ribena Suntory's Merchant's Heart are now moving in. The former's range includes Rosemary & Grapefruit and Pomelo & Pink Pepper tonics; the latter has Hibiscus, Floral Aromatics and Pink Peppercorn tonic variants.

"We're seeing our customers increasingly experiment with new flavour combinations, and it's clear that botanical tonics are fast becoming a must-have ingredient in cocktails and long drinks," says Sainsbury's carbonated soft drinks & mixers buyer Alison Atkin. "Notably, we're seeing more drinkers exploring innovative pairings such as premium tonics with white port, cognac or vermouth."

To tap this trend, Sainsbury's rolled out Merchant's Heart's standard and light tonic waters, as well as its Hibiscus and Pink Peppercorn variants in June before adding its Floral Aromatic Tonic and Ginger Ale in October. Last month, the Hibiscus variant rolled into 175 Sainsbury's Local stores.

"Strong sales over the summer have driven incremental value into the category, resulting in fast-tracked expansion of the range and increased distribution," says brand head Jason Sennitt. "The drinks have been designed to enhance the flavour of the spirit they're paired with, to create exceptional flavour experiences."

Fever-Tree marketing director Saskia Meyer also notes drinkers' growing adventurousness. "Our flavoured tonic range has continued to see excellent growth." Meyer adds that the development of a pairing wheel has allowed consumers to experiment by mixing specific types of spirits with Fever-Tree's increasingly diverse range of mixers.

"For a citrus gin the pairing wheel will recommend our Mediterranean Tonic Water, with sweet, floral notes of lemon thyme and rosemary from Provence, whereas our Aromatic Tonic Water, which uses angostura bark from South America and pimento berries from Jamaica to create a sweet yet spicy flavour, is recommended to pair with dry gins."

It's not all about gin, of course. Hot on the heels of CCEP, which launched a salty lemon tonic for use with mezcal under the 1783 banner at the start of the year, Fever-Tree has paired up with tequila brand Patrón to develop a new Citrus Tonic.
Pushing flavour boundaries
As this flirtation with mezcal shows, flavour innovation has been a priority for Schweppes this year. CCEP customer marketing director Simon Harrison says this has been a driving force behind its value growth of 23.9% on volumes up 29.1% [Nielsen 52 w/e 8 September 2018]. He points to the six-strong 1783 range: Original and Light tonic waters, along with the Salty Lemon, Floral and Cucumber tonics and a new Muscovado mixer.
"Fewer Brits are drinking alcohol: one in five is teetotal, a further 25% trying to drink less"
"The six variants complement and elevate spirits rather than overpower them for an enhanced, more professional mixing experience at home," says Harrison. "The Salty Lemon, Muscovado and Quenching Cucumber variants push the boundaries with their unique, innovative taste profiles."

Still, there is another growing market CCEP can't ignore: the teetotallers. One in five Brits abstain from alcohol, and a further 25% are trying to drink less [ONS]. Small wonder supermarkets, pub groups and restaurants are stocking up on a wider range of more flavoursome alcohol alternatives. For example, Greene King became the first pub co to stock kombucha when it listed the Lo Bros brand in 170 of its London pubs earlier this year. Lo Bros general manager Dom Dalton expects more listings in the on and off trade. "Traditionally fermentation has been primarily used in alcoholic beverages, but I think we're seeing the start of a major move towards fermentation being used to produce soft drinks that are full-bodied and made from natural ingredients."

Younger consumers are more likely to be drinking less booze and opting for tastier alcohol-free alternatives, says Jen Draper, marketing director at infused soda brand Franklin & Sons. "Nearly half of those we surveyed said they'd be likely to order a mocktail on an evening excursion and this was higher among under-35s," she says.

"Therefore, consumers are looking for more unusual flavours within the non-alcohol market and for that reason, more complex mocktails and soft drinks are growing in popularity, allowing more premiumisation and upsell opportunities."
Healthy new ingredients create a stir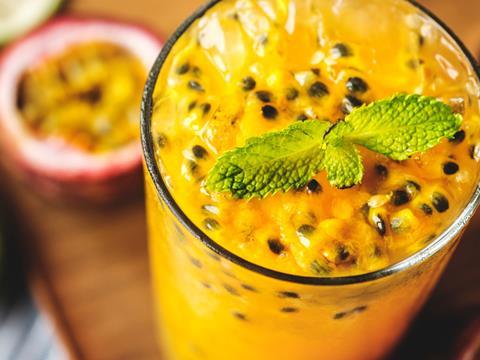 Soft drinks aren't exactly a natural home for health. But all that is changing with the arrival of new health-led propositions such as kombucha and cider vinegar beverages. While kombucha is said to have offered digestive benefits for more than 2,000 years, cider vinegar is believed to aid digestion and weight loss.
More and more brands are jumping on board with healthy propositions, which are in turn creating innovative new flavours. "We're seeing more unusual taste profiles as brands pursue shelf standout and position themselves as an attractive option," says Lisa Desforges, strategy director at packaging and branding agency B&B Studio, which helped launch kombucha brand FIX8.
Australian brand Lo Bros was among the first to bring kombucha to the UK with a six-strong range of low sugar kombucha sodas in May, winning listings in Sainsbury's, Whole Foods Market, Planet Organic and 170 Greene King pubs.
"We've seen consistent growth of 70%-100% month on month since we launched and to see the brand available in so many high-profile locations already is amazing," says Lo Bros's general manager Dom Dalton.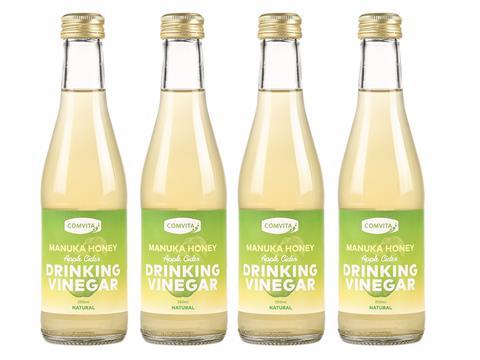 Never one to miss a trend, the brand also added two apple cider vinegar tonics to its lineup in July. They're not the only ones taking a gamble on the vinegar. NPD this year includes Bragg's apple cider vinegar, concord grape & acai drink in Holland & Barrett, and Comvita's manuka honey-infused apple cider (above) in Ocado.
"Consumers are becoming more focused on the ingredients and benefits a drink offers," says Francois Sonneville, senior beverages analyst at Rabobank. "They're attracted to the product because it tastes good and offers an added health bonus."
Added-value mocktails
Kelley Walker, purchasing manager at commercial services supplier Beacon Purchasing, agrees. "One way operators can enhance the appeal of their soft drinks range to customers is by expanding their mocktail offering," she says. "By using ingredients already stocked, such as syrups, juices and mixers, customers can choose new exciting choices at little expense to operators. We'd also recommend introducing flavours that are seen as higher quality, such as elderflower, peach and redberry, as these can add value to mocktails and enable operators to increase prices."

Hence the wave of flavour innovation that's hit the adult soft drinks fixture. For example, Belvoir Fruit Farms has launched a tranche of new products in pressé and cordial formats, including a botanical Juniper & Tonic alternative to a G&T and an Organic Lemon & Mint Cordial.

Borrowing heavily from the craft beer movement, Gunna has launched Pink Punk - a mix of sparkling water, raspberry and lemon - and Muscovite, a cloudy lemonade with mint based on a Russian recipe.

Bottlegreen has also been busy, launching Rhubarb with a Hint of Ginger and Blood Orange with a Hint of Bergamot in cordial and pressé format, and a Sloe & Juniper cordial. "Soft drink aisles are more competitive and more enticing than ever," says Mark Edge, head of soft drinks at Bottlegreen. But he sounds a note of warning. "New brands and high levels of innovation are great, but retailers need to balance shelf space given to new entrants with that afforded to established brands shoppers recognise, trust and purchase frequently."

It's not just smaller brands rallying for shelf space. Own label is also getting more ambitious. Tesco, for example, has launched a range of craft colas including products flavoured with honey, coffee and botanicals. Rabobank senior beverage analyst Francois Sonneville notes similar activity among the rest of the big four.
Moving fast
The speed of innovation is leading retailers to reconsider their relationship with suppliers, he adds. "Both Waitrose and Morrisons have taken advantage of their partnerships with Murcia-based AMC Group to broaden the range of products they stock," he explains.
"This approach enables them to reap the benefits of continued product development. Ten years ago, retailers would regularly switch supplier to make sure they were paying the cheapest price possible, but that's no longer the case. Building longer-term relationships is increasingly seen as a key way to keep up with evolution in the sector."

Staying ahead of the curve will be crucial if challenger brands are to stay ahead of own label. Vishal Sodha - founder of turmeric, ginger & ginseng-infused 'superdrink' DRGN - says sustainability and functionality will be of increasing importance. "A lot of consumers are keen to experiment with new natural, functional ingredients, and we expect to see this trend gathering momentum. Less well-known 'superfoods' such as ashwagandha could enter the mainstream, and we could see increased use of hemp and CBD."

Indeed, Manthorpe at Eos Scientific says the global market for CBD products is expected to go from $1bn to $22bn by 2022. "CBD will continue to assert its popularity with its adoptions into more high street chains, cementing its place in the realms of skincare, health & wellness, food and drink and more." Question is: how long will it be until Coke moves in?
Innovations in adult soft drinks 2018
Click on an image to expand