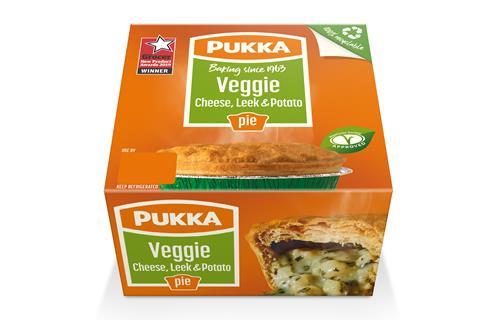 Pukka Pies has overhauled its packs and switched up its recipes.
The brand has ditched plastic windows from its pie boxes in a bid to boost the brand's recyclable credentials. It claims the move to windowless packs will save 11.4 tonnes of plastic annually.
The new packs are made from Forest Stewardship Council-certified cardboard, and will roll into retailers over the course of this month.
The new look would "create an orange beacon on shelf that people are familiar with" said Pukka Pies head of marketing Rachel Cranston, while marking a "step towards achieving even greater sustainability".
It has also changed the recipes of two of its pies. Pukka's All Steak pie has "undergone a recipe improvement by being made and baked with 100% beef brisket", while its Minced Beef & Onion Pie has been filled with more onions and a new "darker, richer" gravy.
It comes on the back of a strong year of sales for Pukka, which is currently the second fastest-growing brand in the pies category.
It added £5.3m to its value sales last year, rising 17.2% to £36.1m [Nielsen 52 w/e 7 September 2019].