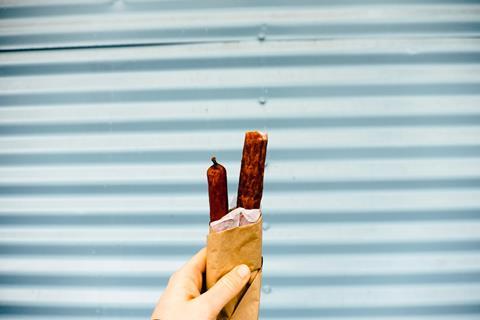 There's a puzzle in this year's savoury pastries numbers. Eight of the top 10 brands are up – Pukka, Welsh Pantry and Pieminister by double digits – yet the overall market has mustered only a meagre £723k (0.1%) gain. Volumes have slipped 0.7%. So, what's going on?
There are two key factors at play. Sales of own-label lines – particularly pork pies and savoury pastries – are tanking. Own label has lost £7.1m in the past year, almost completely wiping out combined branded growth of £7.8m. As this figure suggests, brands are generally performing well, as retailers reshuffle their impulse offerings to make room for a new wave of innovative products. But those that don't get into this space are struggling.
Of the top 10 brands, only Addo Food Group's Wall's and Pork Farms brands are down, by £5.1m (14.7%) and £1.3m (10.9%) respectively. Both have lost significant space in impulse, explains brand manager Michael Holton. "We've seen some big changes being made to some of the most established distribution channels," he says. Addo is now turning to innovations such as the Wall's vegan BBQ Jackfruit Roll, launched in September, to stand against increased competition from "new and recognised players".
Market leader Ginsters – which underwent a complete rebranding in 2018 followed by a host of product launches – is one of the recognised players gaining space. Ginsters MD Kieran Hemsworth names distribution as a "key driver of growth" for the brand. "Distribution has increased by over 14% in the past two years," he explains. "That's over 60k extra distribution points."
Crucially, that's not just in front-of-store impulse fixtures, where NPD such as Ginsters premium Handcrafted range and Moroccan Vegetable Pasty are winning space. In April, the brand launched frozen four-packs of its Original and Cheese & Onion Pasties to further capitalise on the take-home market.
"Through a focus on innovation we're bringing more relevant quality concepts to the market," adds Hemsworth. "We're offering more choice, covering more need states and taking the pasty into new occasions, rather than just duplicating current offers. We're doing this in the savoury pastry aisle, front of store and, more recently, in the frozen aisle."
Still, Ginsters' 1.5% gain is dwarfed by that of the market's new number two brand, Pukka – up 17.2%. Again, a focus on innovation, marketing investment and a warming market for frozen pastries have helped drive growth.
"We are witnessing a renaissance of traditional Britishness – especially when it comes to food choices," says Pukka category controller Sarah Reedman. "Research shows 88% of consumers see pies as a quick and convenient food choice. With traditional mealtimes becoming less rigid, pies are an easy-to-cook and filling everyday meal option."
This is borne out by the 69.7% growth of value brand Welsh Pantry, which has invested significantly in capacity to produce branded and own-label pastries following its 2010 buyout by Indigo Food Group.
The brand has "moved from 10th to seventh position, driven by distribution gains and increased volume sold on deal" says Nielsen senior client manager Scott Rowley. That the 500g Welsh Pantry Corned Beef Pie currently fetches £2.30 in Sainsbury's – versus £3 for comparable own-label lines – helps illustrate the ongoing battle between brands and own label.
Competition is hotting up at the premium end of the market, too. Third-place Higgidy and 10th-place Pieminister have taken their rivalry up a notch with steady streams of innovation. "We've been growing aggressively, continuing to bring new customers to the pie aisle for the first time," says Tristan Hogg, co-founder and MD of Pieminister, which has had the sector's fourth greatest gain of 2019 in absolute terms of £1.4m.
"Our most traditional pies are consistent bestsellers," adds Hogg. "It's also interesting to see pies such as Kevin (a plant-based pie) creeping up the bestselling lists, winning over consumers who'd until now reached for a meat pie."
The rise of plant-based pastries is evident across the sector. Hogg says some of Pieminister's meat-free products, which include two vegan grab-and-go patties launched in July, now outsell some meaty offers. The brand's veggie and vegan pastries have shot up 29% in the past year alone.
Higgidy tells a similar story. Meat-free lines have "played an important role for the brand for many years, with 64% of sales being vegetarian", says its category manager Philippa King. On that basis, the brand has even gone meat-free for Christmas. "Rather than relaunching our classic Christmassy Turkey & Stuffing Pie, we've released our Very Merry Parsnip Pie. We will also be launching our first vegan roll recipe this January."
Not to be outdone, Holland's Pies has launched a trio of frozen and chilled vegetarian pies; Ginsters has teamed up with Quorn for a vegan pasty (see Top Launch); and Wall's is hoping to win back lost listings with new BBQ Jackfruit Rolls and vegan snacks.
Against this distinctly veggie backdrop, it may seem slightly puzzling that meat snacks have made an extra £15.8m. Volumes are up a substantial 9.7%.
Granted, one of the best-performing brands – Kings, up £1.5m – offers a veggie jerky. But there's no denying this is a predominantly carnivorous market.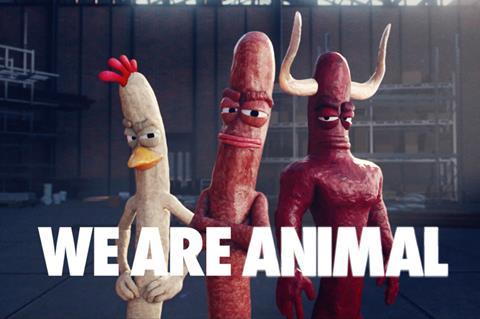 Peperami marketing manager Pavan Chandra points out that flexitarianism is not the only trend shaping shopper habits right now. "Vegans and flexitarians still only account for a small subset of the UK population," he says. "Consumers are drawn to meat as a complete protein source and a healthier alternative to sugary confectionery."
For Peperami, NPD has proven a winning strategy. It delivered nearly two thirds of sector growth, up £9.9m due to strong performances by Pep'd Up Chicken Bites and Cheese Snack Boxes. September saw the addition of a jerky duo. "It is already demonstrating great results, being almost entirely incremental to the current jerky range in the marketplace," says Chandra. "Category growth isn't projected to slow down any time soon."
The Top Products
In association with nielsen
Top 15 Savoury pastries
£m
change (£m)
change (%)
Total Category:
1124.2
0.7
0.1
Total volume change:
-0.70%
Total Own Label:
755.8
-7.1
-0.9
This year's rank
Last year's rank
Brand
Manufacturer
£m
change (£m)
change (%)
1
1
Ginsters
Samworth Brothers
97.7
1.5
1.5
2
4
Pukka
Pukka Pies
36.1
5.3
17.2
3
3
Higgidy
Higgidy
31.2
0.4
1.1
4
2
Walls
Walls's Food Group
29.5
-5.1
-14.7
5
5
Peters
Peter's Food Service
15.5
0.8
5.4
6
6
Bells
Bells Food Group
13.6
0.3
2.6
7
10
Welsh Pantry
The Welsh Pantry
13.3
5.4
69.7
8
7
Pork Farms
Addo Food Group
10.4
-1.3
-10.9
9
8
Vale Of Mowbray
Harris C&T
10.2
0.4
4.3
10
9
Pieminister
Pieminster
9.3
1.4
18.1
11
11
Hollands
2 Sisters Food Group
7.5
1.1
16.6
12
13
Rowes
WC Rowe
6.2
0.1
1.2
13
17
Seriously Tasty
Peter's Food Service
6.1
1.2
24.8
14
12
Charlie Bighams
Bigham's
5.8
-0.3
-5.5
15
15
Wrights
Wright's Food Group
5.2
-0.1
-2.3
Top 15 Meat snacks
£m
change (£m)
change (%)
Total Category:
156.9
15.8
11.2
Total volume change:
9.7%
Total Own Label:
4.8
-0.9
-15.6
This year's rank
Last year's rank
Brand
Manufacturer
£m
change (£m)
change (%)
1
1
Peperami
Jack Link's
71.2
9.9
16.1
2
2
Fridge Raiders
Kerry Foods
56.4
3.9
7.4
3
4
Kings
New World Foods
5.2
1.5
40.4
4
7
Taste Inc
CP Foods
4.3
1.9
80.2
5
5
Jack Link'S
Jack Link's
4.0
1.2
43.4
6
3
Wild West
New World Foods
3.6
-1.2
-25.4
7
6
Cruga
New World Foods
3.0
0.5
22.4
8
15
Ember
Ember Snacks
0.6
0.3
148.6
9
10
Dieter Hein
Dieter Hein
0.5
0.1
24.9
10
29
The Curators
Curators Of Flavour
0.3
0.3
847.6
11
33
Krave
New World Foods
0.3
0.3
1131.8
12
14
Delicatessen Fine Eating
House Of Westphalia
0.3
0.0
9.1
13
20
Fratelli Beretta
Salumificio Fratelli Beretta
0.2
0.1
57.2
14
12
Itsu
Metcalfes Food Company
0.2
-0.1
-29.6
15
13
Unearthed
Winterbotham Darby
0.2
0.0
-8.7
The Grocer's Top Launch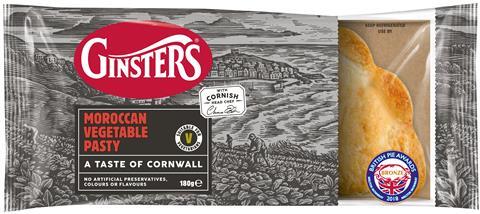 Ginsters Quorn Pasty by Samworth Bros
Sales of meat alternative Quorn are up by more than £50m (see p150), making it one of the fastest growing brands in this report. So, launching a vegan-friendly pasty filled with the stuff makes sense for Ginsters, which has achieved far more meagre growth of £1.5m (1.5%). Of course, the snack's appeal goes further than vegans. Ginsters says 62% of the UK population is looking to cut consumption of meat, so it's paramount savoury pastry players offer more meat-free products.