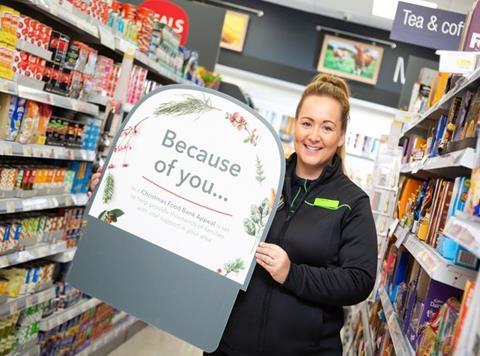 Central England Co-operative is urging customers to donate 'nice treats' alongside staples as part of its Christmas food bank appeal.

The society is hoping to collect more than 70,000 items from 26 November to 24 December, including chocolate and small gifts in a bid to 'spread a little festive cheer' to people in need.

Shopping basket essentials such as tea, sugar, rice, pasta, cereal, tinned fruit, toiletries and hygiene products are also being accepted at collection points at over 180 stores across 16 counties.

Food parcels containing approximately 11 items and providing at least three days' worth of meals will then be distributed to those less fortunate.
"We are proud of our strong links with our food bank partners, links that have allowed us to collect over 200,000 items so far this year," said Martyn Cheatle, Central England Co-operative chief executive.

"This year we are also issuing a plea on behalf of food banks to help spread a little festive cheer by donating a nice treat or gift into our special collection points.

"All we are asking is that people drop off one or more items into our food banks this Christmas and help make a real difference in their community."

Peter Evans, who runs the B30 Foodbank in Birmingham, said: "We are delighted to support the Central England Co-op Christmas Food Bank Appeal.

"At this time of year it is critical that every food bank is stocked full of basic supplies and little treats to ensure people don't go hungry during the festive season."

The Central England Co-operative Society first trialled an in-store food bank collection during Christmas 2013.

Its success resulted in the installation of permanent food bank collection points in hundreds of its stores and the society now works with more than 50 different food banks to provide emergency food and support to individuals and families in crisis throughout the year.