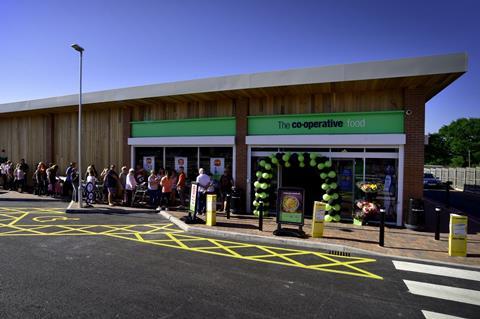 Staff at a Central England Co-op store were left "shaken" after witnessing a man steal cash from a till then flee the scene.
The incident took place at its Horsley Woodhouse store in Derbyshire on Friday 20 November.
No staff members were injured and a police investigation is underway.
The crime is the 10th incident to have occurred since July across the retailer's estate, including at stores in Leicester and Birmingham.
Consequently, the society continues to reaffirm its campaign as it calls for better protection for colleagues dealing with criminals.
"Everyone at Central England Co-op was shocked and appalled by yet another unacceptable incident in our Horsley Woodhouse store just before 1pm on Friday," said loss prevention manager Craig Goldie.
Read more:
"We strongly condemn any form of abuse or violence towards our colleagues who are just doing their job and are working closely with the local police force in order to find those responsible.
"This type of incident reinforces our ongoing campaign calling for better protection for shopworkers and highlights our zero tolerance policy on all types of crime aimed at our colleagues and customers.
"Once again, we are sending a clear message out to anyone who might consider targeting our colleagues and stores – it is not worth the risk and no crime will be tolerated."
The retailer recently revealed it would be introducing a raft of new security measures in stores over the coming months, including a service that allows staff to call for assistance at the touch of a button, as well as putting tracking devices in more products to deter thieves.
This will sit alongside a recently launched trial of body worn cameras, which could be rolled out across all stores if successful.