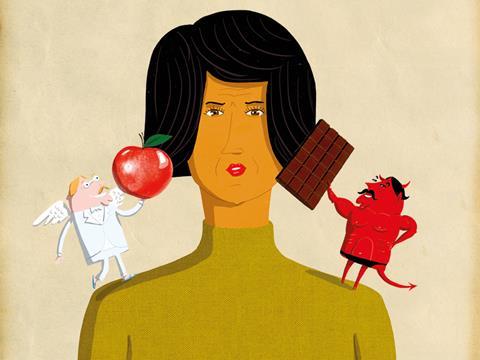 One in three Brits feel guilty after indulging their sweet tooth, exclusive research for The Grocer reveals. That's up from one in five a year ago as the calls for a sugar levy on confectionery grow ever-louder, with some even calling for cigarette-style warnings on packaging.
But it'll take more than health warnings and guilt to stop the nation from scoffing sweets and chocs. Confectionery sales are up 2.5% over the past year, with Brits splashing an extra £80.5m on chocolate alone [Kantar Worldpanel 52 w/e 21 May 2017]. But the way we're enjoying these sweet treats is changing, with more of us reaching for the sharing bags.
So, how are confectionery manufacturers tapping into the nation's changing eating habits? And is there anything they can do to alleviate our guilty consciences?
"A third of consumers say they feel guilty when eating sweets and chocolate," says Lucia Juliano, head of research at Harris Interactive. "This suggests the health and sugar debate is having an impact on consumers' attitudes and behaviours."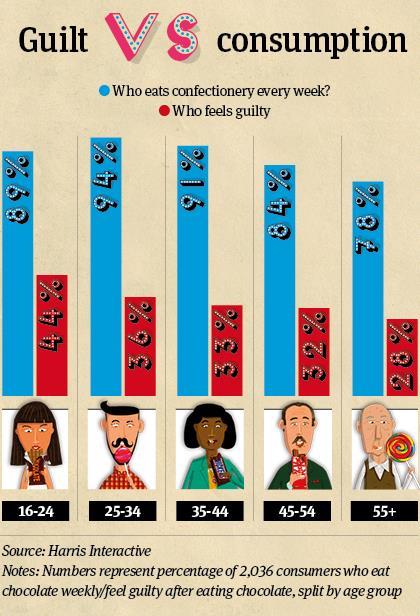 Women are far more likely to feel guilty – 40% are plagued with regret compared with just a quarter of men. There's also significant variation across different generations, with 44% of 16 to 24-year-olds feeling guilty after scoffing sweets, but only 28% of those aged over 55. A closer look at the numbers reveals this is roughly in line with how often they reach for a sugar fix. While 85% of people, on average, do so at least once a week, 78% of those over 55 do, compared with 94% of 25 to 34-year-olds. And 17% admit to getting their chocolate hit daily.
This is, at least, an improvement on two years ago. "As a nation we are cutting down on our chocolate habit, with 5% fewer indulging every day compared to 2015," adds Juliano.
Brits aren't eating confectionery as regularly, then, but they are spending more on it – average prices in chocolate are up 2.1%. Sharing bags are the best performing sub-sector, with 19.5 million more packs sold in the past year, while 7.8 million more blocks made their way into the nation's shopping baskets.
At the same time, singles continue to decline with four million fewer bars sold in the past year [Kantar]. "Whilst consumers are recognising that confectionery should be enjoyed in moderation, it'll take more to eliminate our love of sweets and chocolate," says Juliano.
"A third of consumers say they feel guilty when eating sweets and chocolate. This suggests the health and sugar debate is having an impact on consumers' attitudes and behaviours."
Yet rising concern and awareness of sugar are driving new trends, especially in candy. Sugar-free candy has grown 34% in the past year thanks to NPD from the likes of Fruitella, Nestle Rowntree and Werther's, sailing past candy's overall growth of 0.4% [Kantar].
"This fundamental shift in shoppers' behaviours and attitudes will have a long-term impact on the candy category," says Kantar Worldpanel analyst Charlotte Helary.
Indeed, 40% of shoppers agree confectionery should be enjoyed as part of a healthy balanced diet and over a third – 36% – think eating chocolate and sweets is more frowned upon than it used to be [Harris Interactive].
Creative challenge: half for you, half for charity
But it doesn't have to be this way. We asked creative agency Isobel to come up with the ultimate feelgood confectionery. Here's what it came up with…
Forget chocolate that's a glass-and-a-half full. Say hello to a chocolate bar that's, well, just half.
Half is Plenty Half Bars are the chocolate bar everybody loves, cut straight down the middle. You still pay for the full thing, but half of the money goes to someone less fortunate, someone who probably couldn't afford a chocolate bar themselves.
"Visually it would be quite arresting," says Christi Tronetti, marketing director at Isobel. "People like to support brands that have a cause and there's no reason candy can't fall into that territory."
But do they really want just half a chocolate bar? "We didn't want people to have some sort of horrible tasting nasty alternative, so we eliminated the idea of trying to create something healthy," says Tronetti. "Chocolate bars today are quite large anyway and we wanted to make people feel it's OK to indulge."
And the idea is one that could be embraced by more than just the leading brands. "It could be for own label too," adds Tronetti. "The concept isn't necessarily reliant on known brands."
Neither are charity chews, Isobel's second guilt-free concept. The Charity Sweet Shop sells confectionery on behalf of charities in pop-up stalls in shopping centres and department stores. Think chewy brains for the Alzheimer's Association and suckable bullets for War Child in pick 'n' mix-style bags allowing shoppers to satisfy their sweet tooth while helping a cause close to their heart.
"It can show up in a lot of amazing retail spaces and help bespoke charities," says Tronetti. "The consumer can go in, do their own pick and mix bag and with each selection they've made donate a portion to charity. This could really become a reality because charities are always looking for attention and a voice."
Appeasing consumers' feelings of guilt by appealing to their social conscience isn't as wacky as it sounds. Part of the marketing campaign for Wrigley's latest Starburst offering – limited edition packs of the brand's strawberry flavour Starburst – includes a deal with Asda as part of the supermarket's Tickled Pink campaign, which raises money for two of the UK's leading breast cancer charities. With the strapline 'Proud to be Pink' 165g strawberry flavoured sharing bags are exclusively available at Asda with Wrigley donating 5p from every pack sold to the Tickled Pink charities.
Secret eaters: how consumption is changing
If a charitable donation isn't enough to alleviate the feelings of guilt, perhaps sharing the burden will be. This certainly seems to be a tactic more Brits are employing with sales of sharing bags and blocks booming, as shoppers switch from eating one bar in public to tucking into bigger bags and bars in the comfort – and privacy – of their own homes.
"The big night in occurrence is bigger than ever," says Ferrero's customer development director Levi Boorer. "Research has told us that 30% of shoppers do not know what they are going to have for their meal that evening and would likely purchase on their way home. This gives retailers a huge opportunity to influence shopper behaviour. For example, a good selection of chocolates and wine placed on a secondary sitting adjacent to everyday meals will provide inspiration for shoppers and drive basket spend."
Mars says its chocolate bag sales are up 11.2% year on year while Mondelez is investing 'substantially' in making sure all of its blocks and sharing bags come in resealable packs.
"There's been massive growth in consumer desire to share at home in front of the TV," says Mondelez president Glenn Caton. "We're activating that really well."
Share being the key word, though not all Brits abide by this social convention. Sixteen per cent say they often devour sharing bags by themselves, in one sitting, while a further 22% do so over a few days. Only 13% actually say they share sharing bags with others over the course of an evening.
Some are making up for their lack of sharing with 'healthier' treats, which contribute to the massive growth in premium offerings. Premium block chocolate sales are up 30% and now account for 18.8% value market share of block chocolate [Kantar].
Chocolate Category Snapshot
"The biggest trend that we've seen is a move away from milk chocolate towards higher percentage cocoa dark chocolate," says Madagascan chocolate brand Madécasse's director of marketing Sarah Shah. "Some of our bestselling products are our 80% cocoa and 92% cocoa dark chocolate bars."
And the higher the cocoa content of a chocolate bar, the less sugar it contains. Superfood chocolate brand Doisy & Dam's coconut & lucuma bar contains just 23g of sugar per 100g, compared with a bar of Cadbury Dairy Milk, which has 56g.
"Our high cocoa percentage and inclusion of at least 10% superfoods reduces the availability of sugar in our products and improves the nutritional profile," says Ed Smith, co-founder of Doisy & Dam, which is going after the sharing bag market with the November launch of a premium sharing pouch.
But reformulation isn't as simple as cutting back on the sugar, as Mondelez's Caton explains. "One of the reasons chocolate is such a challenge is that it's such a treat. The reasons people buy it is taste," he says. "There are only three ingredients in chocolate: cocoa, milk solids and sugar. If you reduce sugar, you have to put something else in. If you put in more milk solids – ie fat – you increase calories. So it's not as simple as reformulating will provide the answer."
When it comes to chocolate, another factor leading to the success of sharing bags and blocks and the decline of singles is price. Bags and blocks offer better value than singles with singles priced at £12.19 per kilo vs block at £7.74 and bags at £7.80 [Kantar].
"One of the reasons chocolate is such a challenge is that it's such a treat. The reasons people buy it is taste,"
"It is important to notice that consumers have the choice between many pack formats and price is one of the key elements informing that choice," says Kantar's Helary.
The change in shopping habits is also a golden opportunity for candy. Wrigley says 60% of Skittles are consumed as an evening snack and is also calling for secondary displays of products such as its Starburst 'tear and share' pouches.
"Creating a clear display that communicates the 'big night in' occasion draws shoppers into the fixture and cross-category promotions will certainly encourage incremental purchases," says Wrigley's confections marketing manager Dan Newell.
Inspiration from across the nation
Sharing is caring with the latest launches in confectionery
1. Madécasse Honey Crystal chocolate: The latest addition to the Madécasse range comes in the form of honey crystals paired with Madécasse's signature heirloom cocoa. The chocolate's cocoa content is featured on new packs highlighting the brand's Madagascan heritage and premium positioning.
2. Galaxy Swirlers: With the number of people consuming chocolate on the sofa rising, Mars is going after tea and coffee drinkers with a chocolate bar designed to be dunked just like a biscuit. Galaxy Swirlers are finger shaped and can be broken down into 10 fingers for sharing. They come in caramel crunch and shortbread crunch flavours.
3. Starburst Strawberry: Following successful launch in the US, Wrigley is rolling out limited edition packs of shopper favourite strawberry flavoured Starburst in the UK from July 17. The brand is covering all the bases with single, sharing and hanging bags.
4. Kinder Bueno Mini Sharing Bags : Ferrero is tapping into the sharing bag market with bite-sized individually wrapped portions of its classic Kinder Bueno. Aimed at consumers looking for a treat to share with family and friends, each bag contains 16 chocolates with the brand's hazelnut filling.
5. Skittles Fruits and Sours : Strawberry, blackcurrant and lime flavours have been mixed with sour pineapple, sour raspberry and sour mandarin flavours representing 'both sides of the rainbow' in Skittles' latest NPD. The launch was supported by a return to TV screens of the brand's best-ever performing ad 'Discover the Rainbow, Taste the Rainbow'.
Guilt lanes: what should replace chocolate at checkouts?
Confectionery brands want more space, but they won't find it at the till point. In fact, the removal of chocolate from supermarket guilt lanes is another contributing factor to the 21% decline in singles over the past five years [Kantar].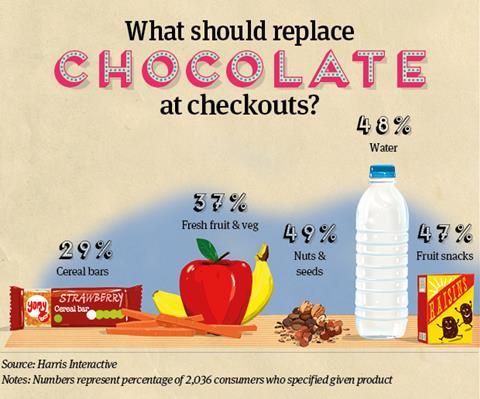 Most Brits (56%) still aren't in support of the move, however, with a third (32%) claming retailers should leave it alone. Of those who agree with the move to get rid of chocolate at checkouts, nearly half (49%) say nuts & seeds are a good replacement, followed by water (48%) and fruit snacks such as dried fruit (47%). Problem is, 35% of Brits are concerned about the sugar levels in the latter, and 9% even say they are unhealthier than sweets and chocolate.
With consumers having the choice between many pack formats it's unclear whether cigarette-style warnings on confectionery packs to help shoppers limit their sugar intake would actually have any effect. "Chocolate is an indulgent product which doesn't hide the inclusion of sugar, so I don't think consumers would be surprised to hear that their chocolate contains sugar," says Doisy & Dam's Smith. "I think warning labels might be an unnecessary precaution within the confectionery category. Sugar is a huge health debate and it's here to stay."
Thanks to…

Harris Interactive , a full-service digital consultative custom market research agency, polled more than 2,000 consumers for The Grocer for this article.

Rob Fletcher, Chan Spencer, Dan Wicks, Georgia Stephenson, Dan Stubbs and Alex Hamilton from creative agency Isobel came up with the Half is Plenty Half Bars and Charity Sweet Shop pick and mix concepts for this article.

With its 30,000-strong consumer panel, Kantar Worldpanel, is a leading consumer and shopper insights provider. Kantar provided sales and usage data and analysis for this article.