Markets were piling it high and selling it cheap long before 1919, when Jack Cohen opened a stall at Hackney's Well Street Market. They also pioneered round price points when, in 1884, Michael Marks opened a stall in Kirkgate Market in Leeds, pricing all items at a penny.
Yet while Cohen's stall evolved into the global retail behemoth Tesco, and Marks established Marks & Spencer from the same humble beginnings, the fate of the markets where they once set out their stalls was rather different. Like so many other markets over the years, they became tired, dilapidated – and empty.
However, times are a-changing. Although, with their scale, indoor location and parking, supermarkets will forever be the dominant force in grocery retail, the majority are struggling. Markets, meanwhile, are enjoying something of a comeback. In 2009 the National Market Traders Federation released a series of depressing numbers, which showed the number of "traditional market traders" in the UK had dropped to 38,100, from 44,500 in 2004, a fall of 14%. In terms of average spend, 53% reported a decline.
However, according to Love Your Local Market, in 2012 the number of markets complaining of falling sales dropped from 34% in 2011 to 26% in 2012. Meanwhile those reporting sales upticks rose from 24% in 2011 to 28% in 2012. Hardly boom-time, but definitely brighter.
At the National Association of British Market Authorities (NABMA), CEO Graham Wilson provides more signs of the renaissance: a survey it carried out in the summer of 2013 (see box, over) showed 73% of traders were holding their own or doing better than the previous year.
"Markets are going through a revolution," he says. "Certainly food-orientated markets are at the leading edge of what this industry will be in five, 10, 25 years' time. We are seeing a new generation of traders with entrepreneurial innovation bringing freshness and vitality to the food area."
It's the smaller, specialist stalls currently driving progress, says Wilson. Yet as recently as 1999 there were no specialist farmers' markets in the UK, Mark Handley, MD of London Farmers' Markets, points out. Now he estimates there are around 400 that cater for two million shoppers a year.
And the 200 businesses that operate at LFM markets generate sales of over £15m. "Our markets have helped to keep over 100 South East farm businesses farming that otherwise would have gone out of business," Handley claims. "Farmers' markets are growing in popularity as urban shoppers find a market on the street corner far more convenient than a long hike to a large supermarket. Our smallest market has on average 1,000 shoppers per week and our largest 4,000 shoppers, most of whom do a weekly food shop."
Nationwide
The rise of the farmers' market also inspired the creation of the BBC's Food & Farming Market of the Year award, which attracted entries from all over the country this year. It was won by Aberystwyth Farmers' Market, which launched in May 2000 and has 30 stalls every first and third Saturday in the month. Along with the other shortlisted entries – St George's Market in Belfast, which counts 30 fishmongers among its 230 regular stalls, and Brockley Market in London – which has been described as a "the perfect way to kickstart your weekend" by Time Out – it speaks to the fact that the renaissance in food markets is a nationwide phenomenon.
Even Borough Market, which has sat deep in the heart of London Bridge since the 13th century, is changing. Today it's stuffed with more than 100 stalls and is a bona fide tourist attraction,but it's most definitely still a working market and it's been even busier since last year, when it began opening on Wednesdays, as well as allowing dedicated lunchtime traders to come in on Mondays and Tuesdays. That decision proved so popular existing stallholders started opening on Monday and Tuesday too, in the hope of capturing this new passing trade. So the market has gone from opening three days a week to six days in the past 12 months.
"Some people were worried it wouldn't work but it's Wednesday today and we have a healthy customer base out there," says market development manager David Matchett. A key reason for the popularity of the market is old fashioned customer service, he adds. "If you go to any market the traders want you to come back. It's more than a financial transaction, it's a co-partnership. Customer engagement with traders is fundamental, and it is core to this resurgence in markets."
After years of neglect for some markets in regional locations, there has also been a recent push to spruce them up. Architect Greig & Stephenson works across all forms of retail, but over the past five years it has seen an increase in redesigning and upgrading markets. Clients have included Borough, Walthamstow and Whitecross Street in London, as well as markets in Preston and Leeds. Most recently, it completed the new 5,500 sq ft Leicester Food Hall, part of the £9.2m transition of Leicester Market, one of the biggest in Europe.
"We've done quite a bit of work recently," says partner Nigel Stephenson. "In Leicester, we started with the old food hall, which wasn't fit for purpose any more, to position a new food hall within the market square."
It took a "lot of guts, and a philanthropic attitude, for the council to make the decision," says Stephenson, because it's a "substantial and valuable site in the middle of Leicester, which could easily have been redeveloped. And a lot of local authorities and tenants in other markets have visited the scheme and liked what they have seen."
Refurbishment
Brighton Open Market is another that came perilously close to disappearing. "It had been declining slowly since the 1970s," says the market's events and admin manager Lisa Lepki. In 2006, three stallholders grew so exasperated they went to the council and pleaded with them to redevelop it, emphasising how it could reinvigorate the whole area and that the market would "die a death" if it wasn't fixed up. "The area was in need of regeneration and the council liked it," says Lepki. "But it still took eight years of hard work."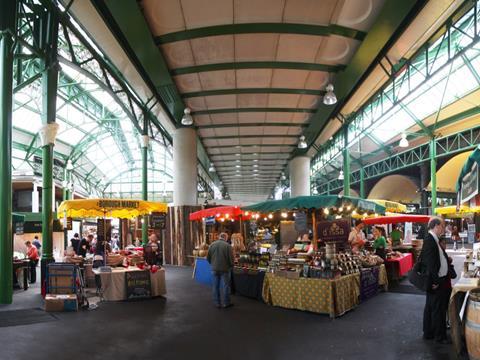 It reopened on 19 July and is open seven days a week. The market has two fruit and veg stalls, a traditional butcher and a fishmonger. "We have a lobster and crab guy who is very quirky and eccentric and I can't imagine buying my seafood anywhere else. I get him to cook me a couple of lobsters, he charges me a tenner each and they are amazing," says Lepki.
It's not just that freshly cooked lobsters cost £24 each in Waitrose, or that you have to order them six days in advance, but the personal touch that goes with it, she adds. "People want to build up a familiarity with the face behind their food. I think people miss that in the anonymity of a supermarket. People want to support local producers rather than give their money to Tesco."
Moving online
Historically, one area where markets were unable to compete with the supermarkets was online, but in Leeds and the surrounding area Dave Fisher, a c-store owner from West Yorkshire, has set up a website called Market Delivered, which allows customers to shop for market products online.
He trialled the service in his local Todmorden Market in 2012 and launched properly in September 2013, adding Kirkgate Market, in Leeds, where M&S began, and Halifax Market.
When customers place an order, Fisher collects and delivers for a delivery fee of £2.99 to anyone within a 10 miles radius. He also takes a 15% cut of the stallholder's profit. In his first year he expects to complete 1,200 deliveries and his turnover will hit £50k. Gross profit will be approximately £9.5k and net profit, not including start-up costs, should hit £6k. "Obviously there is a long way to go with those figures, but for a first year's trading I'm not too unhappy," he says.
Next year he is thinking about adding Bury, which would mean covering Manchester, opening up the website to "a few million people."
Not that convincing anyone that markets and online are a perfect match has been easy. "It's a case of changing people's perceptions. People just aren't used to buying from the local market online."
The stallholders aren't used to selling online, either. "You're facing the same dilemma as customers – it's new and different and they don't all understand it. Speaking to stallholders at Leeds Market can be like banging my head against a brick wall. 'This is a market stall,' they say. 'We don't do internet.' So you have to change their perception of how things can be sold."
And he is making some progress. He started off with four traders, now he has 12, all of whom have their own personal page, which makes it "far more personal than doing an online shop from a supermarket, which is nameless and faceless."
For all the forward momentum, no one is convinced that markets are out of the woods just yet. "I don't think they are thriving," says Fisher.
"Their heyday was in the 1970s and 1980s, when there was free parking, before there was 24-hour shopping. They are not at that level any more. They may be holding their own a little bit more but they close at 4.30pm, so it's not always convenient. As people we have become time-poor. We stop off at the supermarket on the way home because it's convenient. But along the way we have forgotten how amazing market produce can be."
Ellie Gill, aka Mrs Market, who runs the Love Your Local Market campaign, which has the wholehearted support of new high streets minister Penny Mordaunt, also introduces a note of caution.
"I wouldn't call the situation robust. We still have a long way to go and we will definitely see some markets fold."
However, she is confident markets are on the up. "Markets are becoming more popular. We are definitely on the right track and overall the standards are getting higher. They are breeding grounds for cross-pollination of ideas, thoughts and emerging trends and there is a real sense of the zeitgeist around them."