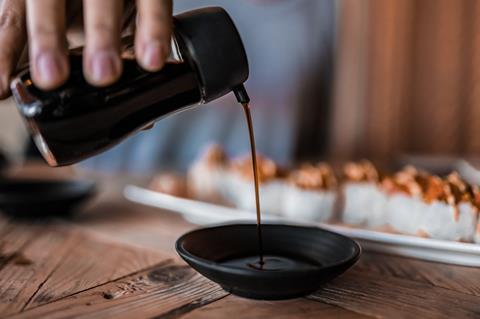 The Heinz-owned Amoy brand has multiple SKUs out of stock across the mults

Kikkoman has been forced to ramp up production after experiencing a massive uptick in retail demand

Own-label lines in Tesco and Waitrose have also been listed as out of stock
Supermarket shelves are being left stripped of soy sauce amid a shortage of bottles and surging demand.
Edge by Ascential data shows numerous out-of-stocks across the mults for the Heinz-owned Amoy brand [52 w/e 8 June 2020].
A Heinz spokesman told The Grocer: "Unfortunately supplies of Amoy Soy Sauce are being impacted due to the short-term availability of bottles.
"We are working very closely with our supplier to resolve this as a matter of urgency whilst taking steps to minimise the effect on availability."
Amoy rival Kikkoman revealed it had been forced to ramp up production at its base in the Netherlands after experiencing a massive uptick in retail demand.
A spokeswoman said the brand had "doubled its sales at retail level" but stressed Kikkoman was well placed to "recover very quickly from any out of stock" because it was not currently selling into foodservice.
"People are cooking from scratch and because they're not going out to their favourite Asian restaurants they're trying to replicate those dishes at home."
Retailer own-label SKUs appear to be in short supply, too.
At the time of writing, some of Tesco's own-label soy sauces are listed as out of stock on its website, with some Twitter users claiming they could not find the sauce in the retailer's stores.
Waitrose's own-label Cooks' Ingredients soy sauces are listed as out of stock on its website too, though both Tesco and Waitrose are still listing options from Kikkoman and Lee Kum Kee.
"Our core line of Chinese sauces including soy sauce did experience some out of stock situations in the market but we have tried our best to catch up by replenishing stocks as quickly as possible," said Lee Kum Kee Europe MD Maria Chong.
But, she said it was a "happy problem to tackle" which "shows that our products are daily essentials to consumers in the UK", adding sales of its soy sauces were up 80% since March versus the same period last year.