Two years of Covid has transformed shopping patterns and left property plans in disarray. For some retailers, a new strategy is needed
It's no great revelation that city centre supermarkets struggled over the past two years. Bustling high streets became ghost towns overnight, sales fell through the floor, and property plans were put on hold as retailers focused on adapting to their new and unprecedented challenge.
The question is: what happens next? With normality returning and the new status quo becoming clear, supermarkets are starting to question what their property strategies will look like in the years to come. Will the bustle of city centres ever return? Is the resurgence in retail parks and out-of-town supermarkets here to stay? Or has the pandemic given rise to a new and so far unconsidered trend?
New analysis by CACI for The Grocer can now reveal some initial answers to these questions. By using mobile phone location data to track average weekly footfall, the data shows how different supermarket locations – from city centres to retail parks – have fared since the UK first went into lockdown in March 2020.
It confirms city centres as the biggest loser – in January footfall was still down about 20% against pre-pandemic levels – but in truth footfall has been turned on its head across the board
Outside cities, 'standalone' c-stores (think of a Sainsbury's Local or Tesco Express on a corner in a residential area, with no shops for neighbours) have proved the "most resilient" location, along with minor urban parades, says CACI head of grocery Valentins Kirillovs. "As shoppers embraced shopping locally, the footfall in those locations decreased the least in 2020 and recovered the fastest in 2021," he says.
Even in 2020, both location types saw some of the smallest drops in footfall, and in January this year, both were up more than 30% on pre-pandemic levels.
"Do you really want to commit to a high street location for 25 years when there's uncertainty over footfall?"
It is a sign of the level of unpredictability in previously well-established patterns that has in some cases stalled supermarkets' property plans, experts say.
One supermarket was "looking at selling some of their portfolio, smaller ones, a lot of them regional, which had traditionally been quite weak locations", says one source. "But they changed overnight because everyone was at home and the stores suddenly became really popular again."
While there was a very clear pattern of sales data in the three years prior to March 2020, the inconsistency of the past 18 months had made supermarkets reluctant to commit at the moment to some of these long-term decisions, they added. "It's made it difficult for retailers because they can't predict what's going to happen."
City centre locations certainly fall into this category for most retailers. These locations were not only the biggest loser through the pandemic – down by an average of 60% throughout 2020 – but have remained the hardest hit coming into 2022.
"The darkest hour for city centre locations, in terms of footfall, was April 2020 when the shopper mobility index in those locations dropped to 18% of what it was pre-Covid," says Kirillovs.
The impact is well-documented by several retailers, most notably M&S, which noted its city centre stores helped create "drag on sales performance" for the food division, in its latest annual report in June.
As a result, its estate rotation programme, which had already seen it close or relocate dozens of city-centres stores since 2016 in favour of retail parks, was accelerated.
John Witherell, retail group senior director at CBRE, believes other major grocers will now be considering a similar path of action.
"There will be a lasting legacy [of the pandemic] for c-stores and small supermarkets in city centres," he says. "While people are returning to the office, the hybrid working model has been accelerated.
"Even though it's improving, there will be less people in city centres, in office-based jobs, than there was five years ago. Therefore, those convenience stores –The Co-op, Sainsbury's Local, Tesco Express and independents on every street corner – will have to change."
Witherell thinks supermarkets will try to limit their exposure to the new uncertainty by making landlords share some of it. "We may see those stores shifting to a turnover rent basis," he says.
Unlike fashion retailers, supermarkets have previously shied away from turnover-based leases, in which rent becomes a percentage of sales.
"A traditional rental model has always worked for them," says Witherell. Major transport hubs, where landlords insist on turnover leases, have so far been the only exception.
"There will be some interesting discussions as leases come up for expiry," says Witherell, who sees the likes of Tesco and Sainsbury's saying to landlords: "'The landscape has changed. If we're going to keep stores in the city of London, in Birmingham, Manchester, we're going to need turnover-based deals, so that if we do get a situation where there is a drop-off in sales then our rent decreases accordingly'."
For landlords, it's "suddenly a bit more of a gamble", but one they will have to accept, a property source tells The Grocer. "Landlords can't be bullish and say: 'Fine, you can go, Mr Tesco', because no retailer, c-store or otherwise, is going to be as attracted to the location if the footfall is only strong three days of the week as opposed to five."
Paul Matthews, director and co-lead of retail strategy & analytics at Colliers, is more optimistic, arguing city centre footfall will continue to recover. He sees 'just walk out' stores, opened recently in London by Tesco, Sainsbury's and Aldi, as one way supermarkets have responded to the decline, by 'localising' their proposition.
"I'm sure it's not a coincidence that there is a little hub forming in London where they're testing these things because that's where they think consumers are most likely to want it – busy people who have the technology to transact in that way," he says.
The big question is whether the new patterns now emerging are sufficiently established to rely on. On local high streets, for example, footfall fell more than most locations through 2020 and 2021 and is now seeing a more modest recovery at the start of 2022. Yet because this was inevitably caused to some extent by the closure of non-essential neighbours who are themselves still recovering, it remains to be seen to what extent it recovers in the coming months and years.
Steven Noble, chief investment officer at Atrato Group, investment advisors to Supermarket Income REIT, says: "It wouldn't surprise me that if someone was looking to do a sale and leaseback on their convenience portfolio, they might be thinking again. Do they really want to commit to a high street location for 25 years under a lease when there's uncertainty over footfall in those locations?"
Rapleys partner Richard Curry believes the pandemic will strengthen supermarket interest in smaller regional stores, such as Sainsbury's plans, announced late in 2020, to open 18 of its new 'Neighbourhood Hub' stores over three years.
Nonetheless, after the availability challenges of the pandemic, supermarkets may now be more inclined to seek out stores with more storage capacity and easier delivery access. It is, after all, easier to deliver more frequently to a standalone c-store on the edge of town than on a central urban high street. "They will have to be predicting that they may need to service stores more regularly than pre-Covid," says Curry.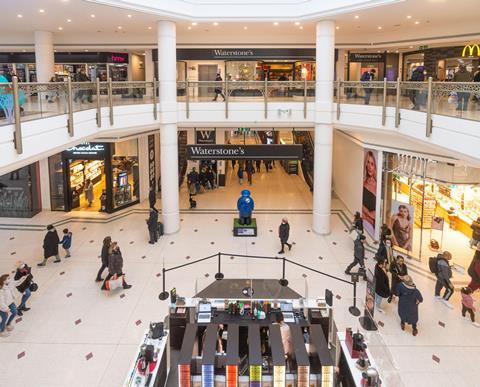 Shopping centres: it's all about the 'burbs'
There is a perception that shopping centres are in decline – but the picture that emerged in the pandemic is not that simple, says CBRE's John Witherell.
As with c-stores, so much has depended on where they are.
"There isn't a catch-all for shopping centres," says Witherell. "If you look at London, the City, the West End have all seen a dramatic drop-off but not shopping centres in the suburbs – the Bromleys and the Watfords – because people are not commuting, so they're still using their local centre.
"So if you've got an Aldi, Lidl, Iceland or Sainsbury's in that shopping centre in your town, you'll still use it."
It's reflected in CACI's data, in which shopping centres fall into both 'city centre' and 'local centre' categories, the former proving far less resilient than the latter.
Witherell also predicts shopping centres that have proved resilient in the pandemic will remain resilient. "Shopping centres in smaller towns, market towns, mid-sized towns, where people are still there on a regular basis because they use the café, pub, bank, whatever – those will stay quite strong. So, I don't think there's necessarily a big problem with shopping centres for supermarkets – it's location-dependent."
Retail parks
The pandemic is also likely to have strengthened interest in retail parks – if a unit can be found amid growing demand. Retail parks have "come into their own throughout the last two years, with footfall remaining strong when essential shops and garden centres were allowed to open and home DIY was booming", says CACI's Kirillovs. "This trend has continued with significant investment being poured into retail parks. Grocers often act as anchors and footfall drivers."
The closure of many major stores like Homebase has allowed large grocers to move in. As mentioned, M&S is accelerating its retail park expansion, Iceland is building out its Food Warehouse stores, and of course, not wanting to miss out, are Aldi and Lidl.
"For the three years prior, we've got a very clear pattern, but for the past 18 months it's been up and down"
However, the increasing popularity of retail parks as destinations for click & collect as well as their potential for last-mile fulfilment sites has meant intensifying demand from non-food retailers as well.
As a result, "we're now at the thin end" of supply, says Witherell. "Very few retail parks have any availability. If you're looking for available space on a retail park, you're probably now looking at the second or third best park in any town."
Despite the crush for space, the big grocers' standalone supermarkets have performed even better in terms of passing footfall. And if hybrid working does spell a lasting loss for city centre c-stores, then big supermarkets could be the lasting beneficiary.
"People are working from home more," says Noble. "So they're not eating in Prets, they are eating at home and that's adding to the shopping basket."
The pandemic has of course also led to a sizeable uptick in online shopping, as well as the rise in rapid delivery, amid increasing expectation from shoppers of purchase delivery within minutes.
Some 90% of the big four's online grocery sales are fulfilled through supermarkets, according to Noble, meaning they are well placed to capitalise both on the proximity to their customers with fast deliveries as well as make the most of their increasingly valuable real estate.
Yet this does not mean big supermarkets are safe from closure. As the dust of the pandemic settles, businesses will be looking more closely at their poorest-performing legacy stores as they get property programmes back on track, says Witherell.
Colliers' recently published Grocery Real Estate Review 2022 highlights how, after a period of inactivity, the big four are opening supermarkets again. Tesco opened its first new supermarket in six years last year, followed by another three. Sainsbury's opened three supermarkets (and four Neighbourhood Hubs) and Morrisons opened four supermarkets.
Asda's new owners, TDR Capital and Mohsin and Zuber Issa, are also reported to be looking for stores.
"As you open new stores it means looking at the whole portfolio and performance of some other stores," inevitably meaning more closures, says Witherell.
It's already happening, with Sainsbury's having closed supermarkets in Portsmouth and Andover last year. In the wake of the pandemic, it could mean more out-of-date supermarkets being replaced, perhaps by two or three smaller format stores serving the same area. "I can see a situation now where, perhaps accelerated by the pandemic, underperforming stores may be replaced by new store formats as the demand and style of shopper changes," says Witherell.
It shows that while there are still big unknowns over the sustainability of emerging footfall patterns, retailers aren't hanging around to make their move.