This article is part of our digital feature on free-from.
Free from milk – like its consumers – is in rude health. Sales are up 16.7% on volumes up 13.8% as Brits go crazy over plant-based eating [Kantar 52 w/e 13 September 2015].
While soya remains the bedrock of the category at £74.7m, sales have fallen 1% on volumes down 2.2%. It is, in fact, the new kids on the block that are benefiting. Brits have shelled out an extra £5.5m on coconut milk over the past year, more than tripling sales, while almond milk has grown 70.4%, taking its value to £30.6m.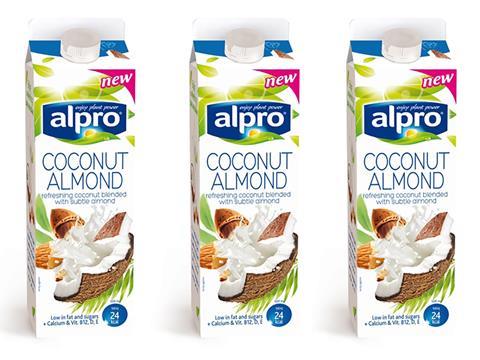 "Choice and variety are key drivers for the brand, and the category as a whole," says Vicky Upton, marketing controller at Alpro UK. "By introducing popular and familiar flavours to our soya heartland, like almond and coconut, we're providing consumers with an accessible route into the plant-based arena. Once consumers have bought into these mainstream ingredient options and experienced the great taste and versatility of plant-based products, they're likely to seek out new ingredients and new products."
Despite the drop-off in soya sales generally, Alpro says it's seen value growth across its fresh and UHT variants of 2.1% and 7.4%, respectively.
Oat milk has also had a good year, adding a further £2.1m to the category. Oatly CEO Toni Petersson partly attributes its success to environmental matters, as well as the boom in healthy eating driven by the likes of Deliciously Ella and Hemsley & Hemsley.
"People are increasingly aware that switching from milk to plant-based alternatives is better for their own health, and that of the planet," he says. "We're also seeing a rise in flexitarianism – the realisation that the meat and dairy industry has a catastrophic impact on the environment, greater even than fossil fuels, is leading many to seek to reduce their consumption of meat and milk and seek alternatives that don't compromise on taste."
But they may be willing to compromise on price. The milk price war has taken its toll on fresh cows' milk and those in free-from are starting to pay attention.
"The current retailer milk price war is on our radar," adds Upton. "But free-from products aren't a commodity – so our main focus is on how we can help retailers bring value back into the market by delivering a range of innovative plant-based drinks that meet growing consumer demand.
"In the face of the price war, we're prioritising how we can adapt to the ever-evolving needs and expectations of shoppers by working with buyers to develop marketing partnerships that really get under the skin of their customers. This isn't a 'one-size-fits-all' approach, either – we know the importance of tailoring our offer per retailer and working in a way that's bespoke to their individual needs and the needs of their shoppers."
In association with: