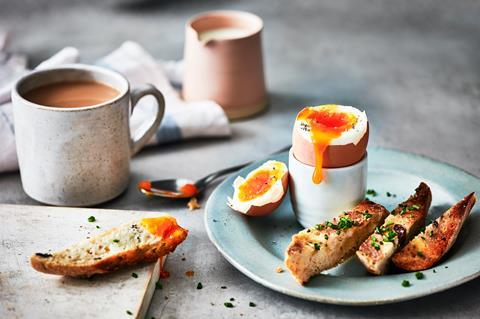 Locked-down Brits are spending more time than usual over the first meal of the day

At John Lewis, sales of coffee machines are up 30% compared with last year

Egg cups, teapots, mugs and juice glasses are among the products selling well
Sales of breakfast-related accessories, such as egg cups, have rocketed at Waitrose and John Lewis as shoppers spend more time than usual over the first meal of the day as a result of the national lockdown.
The department store and supermarket said Britons had traditionally skipped breakfast in favour of 'grab-and-go' options in recent years.
However, with a large part of the population working from home or self-isolating during the coronavirus pandemic, consumers had sought out breakfast-related goods and accessories, they said.
The egg cup has enjoyed a resurgence, with many John Lewis ranges sold out online, and increased sales across all designs.
Sales of teapots and mugs are up 6%, while speciality loose tea also jumped 13.5% at Waitrose.
Juice glasses have also been selling well, including some of the most popular brands such as Duralex, which is up 29%, and La Rochere glasses, up 44% in the last week.
At John Lewis, sales of coffee grinders, coffee pots and related accessories are also up 24% in comparison with this time last month, and sales of coffee machines are up 30% compared with last year.
Sales in the home baking aisles have also been on the rise as customers turn to baking during the lockdown, with bread flour up 145%, yeast 190% and bread mixes up four-fold.
Online sales at John Lewis have helped prop up figures at the group while all 50 department stores remain closed. Last week, John Lewis Partnership reported a 17% year-on-year fall in John Lewis sales since the middle of March – and 7% since 26 January – which is better than feared.
Waitrose recorded strong sales growth of 8% year on year since 26 January, with rice, pasta, long-life milk, home baking, frozen foods and cleaning products among the most in-demand products.
John Lewis tableware buyer Nicola Hattersley said: "Many of us don't normally have time for breakfast as we rush to work and school, or have takeaway toast, if we're lucky. One positive from being at home more is enjoying a slower lifestyle and taking the time to eat properly and make mealtimes more of an occasion.
"The humble egg cup – something many of us haven't used since childhood – is gracing tables once again and hopefully we'll also see a new generation becoming familiar with soldiers and debating the best way to smash open a boiled egg."