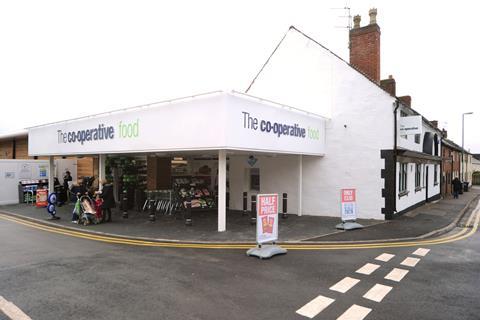 A Central England Co-op shop worker ended up unconscious in hospital last week after a violent attack in Leicester.
The incident comes just days after 200 MPs called for better protection for shopworkers from physical and verbal abuse in the workplace.
The retailer is reinforcing its message that violence and aggression towards staff will not be tolerated after the occurrence took place at its food store in Markfield, Leicester.
The worker is now out of hospital and recovering, and police are investigating the incident at the store on Friday 10 July.
Leicestershire Police said officers were called to a report of an assault outside the store just after 3.40pm.
It was reported a man had been verbally aggressive towards another man before pushing him, which led to the victim losing consciousness.
The suspect then took the victim's mobile phone before leaving the scene.
"Everyone at Central England Co-op was shocked and appalled at the unacceptable attack on a colleague in Leicester on Friday," said Central England Co-op loss prevention manager Craig Goldie.
"This unprovoked incident resulted in the colleague being badly injured and taken to hospital. They are thankfully now in a stable condition."
The society said recent figures showed a 100% hike in assaults. Threats and intimidation have also jumped 25% and verbal abuse has gone up by 175% since the start of the year.
Last week, the government outlined findings of a consultation entitled 'Call for Evidence – Violence and Abuse Towards Shop Staff''.
Some of the actions to arise from the report include:
Development of best practice guidance to help staff report crimes and ensure they have the correct support
Urging police forces and police and crime commissioners to reach out to retailers to understand the scale of the problem locally
Urging police forces to set out rules that the theft of goods up to £200 should be prosecuted as a criminal offence
However, the retailer is saying "more needs to be done" to protect these critical workers in carrying out their duties and to curb a potential crime epidemic.
It is continuing to lobby for tougher laws, alongside other co-operative retailers across the country.
"We strongly condemn any form of abuse or violence towards our colleagues who are just doing their job and are working closely with the local police force in order to find those responsible," Goldie added.
"This type of incident reinforces our ongoing campaign calling for better protection for shopworkers and highlights our zero-tolerance policy on all types of crime aimed at our colleagues and customers.
"Once again, we are sending a clear message out to anyone who might consider targeting our colleagues and stores – it is not worth the risk and no crime will be tolerated."
A Leicestershire MP has also condemned the attack.
Dr Luke Evans, MP for Bosworth, praised the work of shopworkers, supported efforts for them to receive better protection and backed calls for the perpetrator to be brought to justice.
"Our shop assistants have been in a very real sense the forgotten heroes of the coronavirus pandemic, in the early days going to work to support us and putting their own health at risk. We owe them a great deal," Evans said.
"No shop worker deserves to be assaulted in the course of their work, in fact they deserve respect and gratitude. I hope that in this case the assailant is tracked down and dealt with to the extent of the law.
"I am reaching out to the victim to offer my support and assistance."