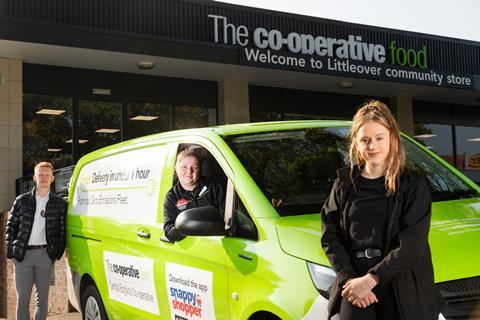 Central England Co-op has partnered with Snappy Shopper in a bid to offer its customers an eco-friendly delivery service.
The trial in its Derby and Birmingham stores will see shopping delivered to local residents via an electronic vehicle in less than an hour.
The van is charged at store and allows the drivers to travel around 90 miles per charge, reducing its impact on the environment, the retailer said.
Colleagues will not use plastic bags, instead delivering shopping using baskets, which customers will be asked to empty at their home.
"We are proud to be one of the main hubs hosting this exciting trial that will allow local shoppers quick and convenient access to get food and vital essentials from their local Central England Co-op store," said Littleover food store manager Tony Watt.
"Recent times have really showed us all the benefits of being able to shop local with a trusted, community focused retailer and this trial with Snappy Shopper is another great extension of that way of thinking and how we, as a society, are always trying to come up with more ways to improve the shopping experience for our customers and members.
"We are also pleased that the trial will see products picked and packed by colleagues at a local store and then delivered in an environmentally friendly way with our special electronic vehicles."
Customers ordering via the app will have access to over 1,500 products including everyday groceries, alcohol and snacks. They will be able to request delivery within the hour, seven days a week, during a 10-hour time window.
All prices will be the same as in store, with a £3 charge for delivery and a minimum order of £15. However, free delivery is being offered for first-time orders.
Snappy Shopper CEO Mark Steven said: "The Snappy Shopper platform is designed and built specifically for the convenience store market and is based entirely on working in partnership with retailers to drive incremental new sales.
"This in turn assists retailers in supporting the needs of their communities. No other platform has the functionality that Snappy Shopper offers. This drives significant incremental sales for our retailers and promotes returning customers."