In the past two years, a new wave of convenience shoppers has brought a raft of extra money into the sector. It is driving to a frenzy of activity as retailers invest in their stores to upgrade them for the new age
Convenience retailers are feeling bold. After two years of the pandemic, a clearer picture of its affect on the sector is starting to emerge, and the prevailing picture is positive.
The enormous sales spikes that characterised the first lockdown in March 2020 may have subsided, but sales still remain ahead of where they were two years ago. The latest grocery market share from Kantar shows sales were down 10.5% for the 12 weeks to 26 December compared to the same period last year, but up 5% on the same period in 2019.
It means convenience stores have held on to many of the shoppers who turned to them in desperation at the beginning of the crisis when empty shelves plagued the supermarkets. They are managing to do what former Costcutter CEO Darcy Willson-Rymer called "converting lifeline shoppers into lifetime customers", and in turn, it's giving existing retailers and potential newcomers the confidence to invest.
Alongside higher sales, a buoyant property market is helping to fuel retailers' belief that now is a good time to pump money into stores. They are turning to sharp and shiny refits, typically focused on higher-margin fresh and chilled products which, combined with higher overall sales, is helping deliver swift returns on investment.
"The pandemic has cemented what we've been saying for years in terms of the need for convenience stores to offer more fresh and chilled," says Booker brand director Martyn Parkinson. "Where retailers may have been hesitant before, they are not any more."
He points to a growing appetite for retailers to embrace the wholesaler's latest vision for its Premier stores. This month, Premier unveiled a new small format flagship store to sit alongside its larger version, which it showcased at Singh's Premier in Sheffield last summer. It featured a walk-in refrigerated 'Beer Cave', an extensive vape offer, more food to go, and a 'Refresh' zone with machines serving frozen drinks, milkshakes and smoothies, as well as coffee and hot chocolate.
The condensed version opened in Wheatley Hill, Durham earlier this month. Featuring a pared-down elements of these concepts, Booker is citing a five to six-month ROI of £50,000 for retailers looking to take on the concept. It already has 22 interested retailers, with 10 advanced to the planning stage. Interest is also understood to be strong in the larger format with investment of around £200,000 needed to replicate the Singh's offer.
McColl's offer further evidence of a quicker ROI on these new store formats. It raised £30m in August last year to fund the conversion of 350 stores to the Morrisons Daily format by November this year and cited a two to three-year ROI. The stronger performance of these stores has since convinced the retailer to raise its conversion target to 450 in the same timeframe. At that point, McColl's said it expected the ROI would now be at the shorter end of the forecast, with CEO Jonathan Miller saying he believed this could be cut further still.
Spar, meanwhile, has completed 200 openings and refits, with a further 200 refits planned for the next 12 months. "Last May we announced we would invest £125m into our stores and improve our supply chain and IT capability," said Spar MD Louise Hoste. "We are more than halfway through that process."
It's not all major investments like this, however. Many retailers are picking and choosing the areas they want to focus on based on changes they've seen in shopper behaviour. "We made a conscious decision during lockdown where we identified what areas are growing within the business," explains One Stop franchisee Aman Uppal.
As he saw it the key trends were food to go and vaping. He spent £5,000 on a dedicated vape shop, an area retailers have tended to be wary of in the past as they lack the specialist category knowledge. He also updated his food to go offer. "It was after the initial rush died down, and we thought how can we retain these new customers," he says. "It has massively paid off. We've got a couple other things in the pipeline too. I just took on an orange juice machine, which is on trial through a company called I Squeeze. Then also I've got a Reese's hot chocolate machine in the pipeline too, which will be one of the first in the UK."
Retaining new customers is also what drove Filco Supermarkets to invest £250k in refitting three stores with an expectation of spending a further £300k on three more this year. "It's about the reinvestment across the estate with the aim of retaining as much of the gains we have earnt as possible," says MD Matthew Hunt.
Shopping local is no longer just impulse based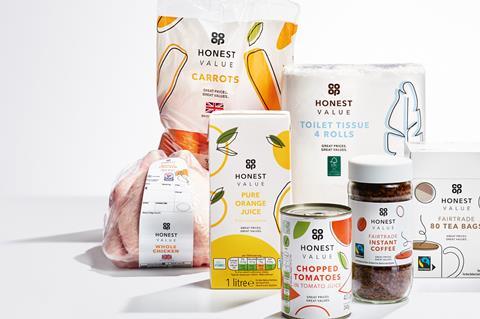 Part of the success of the convenience sector over the course of the pandemic has been stores adapting to changing shopper needs. As well as higher-margin categories like vaping and food-to-go there has been a greater emphasis on core grocery and catering for more meal occasions.
As such, shoppers will expect better choice and a strong mix of branded and own-label lines. Hence wholesalers and symbol operators in recent years have been faced with the dilemma of whether to invest in their own ranges or source a credible own-brand offer from major mults.
The path each one is choosing reflects the complex ownership and supply arrangements within the sector. Spar continues to grow and develop its own brand, even beating bigger players to the punch recently by declaring its entire own-brand wine range suitable for vegans.
On the other hand, Unitas has begun working with Morrisons to plug gaps in its own-label offer.
Bestway retains its Best-one brand, but having acquired Costcutter last year has extended the supply deal with Co-op, meaning those retailers can still access 2,500 Co-op branded lines. Co-op own brand is also available to all Nisa retailers, of course.
And while the Tesco-owned Booker symbols mostly stick to Booker lines, last year saw its symbols begin offering products from Jack's – Tesco's discounter venture.
Tesco CEO Ken Murphy said these lines were proving very successful in the wholesale and convenience channel which is interesting as convenience retailers have previously shied away from a budget range as they were reluctant to take up valuable shelf space with lower margin items. Doubtless the current surge in inflation and potential tough economic times ahead are likely to see more retailers seeing these lines as important. This explains why Co-op made its Honest Value range available to all Nisa retailers this month.
Costs threat
Hunt's investment includes food-to-go equipment such as soft serve ice cream and milkshake machines as well as new tills, scanners, credit card terminals and back office kit. However, Hunt points out that investment is not only about capitalising on a Covid boom. It is also imperative to mitigate cost increases that are set to have a major impact in the months and years ahead.
"We have a big solar project lined up which will significantly improve efficiency at our largest store and we are investing further into new chill and freeze kit to mitigate power consumption," he says. "All we can really hope is to try and stop the bills rising rather than hoping to achieve reductions, but it is a top three priority for sure."
ACS communications director Chris Noice agrees that mitigating rising energy costs is a key driver for current investment plans, with solar panel and more energy-efficient fridges and lighting the most popular upgrades. However, it is not all about retailers sprucing up their stores. The strength of the sector is also driving surging demand for good sites, with the mults and co-ops on the acquisition trial, independents looking to expand their store portfolio, and even new players attracted by the market's stability and potential for strong margins. These newcomers appear to be targeting convenience where previously they may have preferred pubs or restaurants.
According to convenience property specialist Christie & Co, demand for c-stores hit an all-time high in 2021 and continued to outstrip supply. According to its annual Business Outlook report, published this month, average property prices in 2021 increased by 5.9% on the previous year. Its retail team sold 60% more c-stores in 2021 than in 2020 and 70% more than 2019. The report found the number of offers for each store had also increased over the past two years as "a result of the heightened profile of convenience as an essential service since the beginning of the pandemic".
These findings are certainly backed up by retailers' first-hand experience. One retailer in the north of England said his store was attracting offers on "an almost weekly basis".
Another retailer said he had received five approaches in recent months. Neither have plans to sell but clearly many are and w With increasing supermarket interest in key c-store sites, we are beginning to see a new battleground emerging among the traditional symbol operators for smaller stores. What were historically local newsagents are getting the convenience treatment with chillers for fresh produce, ready meals and longer life chilled items as well as more core grocery lines.
Nisa first showcased its Express format for convenience and forecourt sites up to 1,000 sq ft in October 2020 and has continued to roll it out during the pandemic. "The latest technology and contemporary design provides a first-class shopping experience for the consumer," says Nisa sales director Steve Leach. "Covering food-centric, forecourt and essentials, each future-fit design differs to meet the demands of the shopper, with format and range tailored for the specific market. Express is continually evolving with latest additions including an enhanced sustainability range, integrated self-scan, customer-facing vaping and much more to ensure retailers can fully utilise the space they have without compromise."
Read more:
In December, SimplyFresh relaunched its LittleFresh format with three stores in London. It is aiming for another five in the capital this year. The focus on these stores, which can range from 300 sq ft to 1,000 sq ft, is very much food to go, showcasing "the best of SimplyFresh convenience stores in the smallest of packages," says creative director Davinder Jheeta.
And these smaller stores are not just for city centres, either. The latest small Premier format is a 600 sq ft former newsagent in a small town in Co Durham, and has gone from a turnover of £8,000 a week to around £20,000 since its refit. Other wholesalers like Bestway and Parfetts are also battling for smaller stores and even McColl's, which has typically been selling off its smaller stores in recent years, has developed a model to convert stores of under 1,000 sq ft to the Morrisons Daily format.
While there are certainly plenty of these stores to go for from the symbol operators' point of view, the challenge is going to be maintaining a cost-effective service model particularly given soaring costs, such as fuel and energy.
Typically, smaller stores will have less storage space and so will either require frequent small drop-offs from a delivered wholesaler or multiple trips to the cash & carry by the retailer. The Premier model goes with the latter, meaning proximity to a depot is also a must.
Of course, this harks back to the age-old debate over cash & carry versus delivered. It has seemed that delivered had been winning the argument recently, with cash & carry moving towards a planned top-up mission. Wholesalers have been restructuring depots and their networks around this trend. However, this year delivered players are coming under pressure. Already this month Nisa and Booker have introduced charges on deliveries as they battle to cope with the sharp rise in the price of fuel and labour costs throughout the supply chain and particularly wages for HGV drivers. All these, along with continued uncertainty of supply, will undoubtedly continue to prove a headache for delivered operators.
It will be fascinating to watch how this all plays out in the months ahead, but it is clear to see that the convenience market remains in good shape. Hopefully a return to more normality will prove a boon for the hospitality sector as well.
Why c-stores would be unwise to ignore 'just walk out' shopping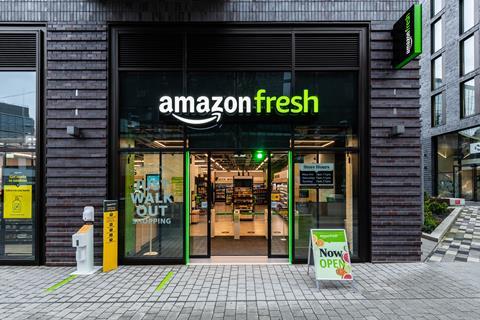 When it first opened to the public in 2018, Amazon's 'Just Walk Out' Go store seemed like a gimmick. Suitable for a cash-laden technology giant's first physical foray? Perhaps. But your typical retail store? Think again.
Yet over the past 12 months, the checkout-free technology, which allows customers to enter a store with an app, pick items from the shelf, and walk right out, has truly come of age.
Amazon has opened 15 Amazon Fresh format stores in the UK. Typically stores of around 2,500 sq ft, they offer food to go, essentials and fresh produce. Amazon is now planning a nationwide estate of more than 260 by 2025.
Supermarkets have quickly followed in the e-commerce behemoth's footsteps with their own versions. Tesco launched checkout-free format GetGo in October, retro-fitting its Tesco Express High Holborn site.
Sainsbury's followed suit with its SmartShop Pick & Go store in November, at its Holborn Circus convenience store, using technology supplied by Amazon.
Aldi is the latest to want in on the trend, becoming the first discounter to offer 'just walk out' shopping with the opening of its checkout-free store in London: Aldi Shop & Go. It uses camera-only technology (most other forms use shelf weight sensors as well) and unusually for the format, the store is large, nearly 5,000 sq ft – said to be the biggest of its kind in the world.
The technology is undoubtedly expensive. "Capex limitations mean checkout-free deployments will be an urban and transit hub play for the foreseeable future," says Miya Knights, co-author of a book on Amazon.
Changing consumer behaviour is also tricky. "Let's not forget the inevitable confusion that customers will experience from completely changing the way they shop," says Ofri Ben-Porat, CEO and co-founder of Edgify.
If, or when, consumers are comfortable, the technology promises huge benefits for retailers. Stores can function with far fewer staff – or none at all – and can always be open.
There are doubters. Ben-Porat says Amazon's fully autonomous store model "has as much likelihood as mainstream flying cars in the next year as far as mass retail rollout is concerned".
But, warns Knights, those that ignore 'just walk out' do so "at their peril".
George Nott