This article is part of our digital feature on dairy.
It's all about quality over quantity when it comes to dairy brands on Facebook, according to content marketing agency Headstream.
Take Philadelphia, revealed as dairy's most 'socially active' brand in a study conducted for The Grocer, despite the brand publishing considerably less posts than others.
The key? It achieved extraordinary levels of engagement on each of its posts from its easy-to-follow recipes as consumers looked for posts they could act on.
"Providing valuable and relevant content that fulfills the needs of the audience is a surefire way to boost engagement," explains Headstream biddable media manager Tara West.
| Ranking | Brand | Likes | Comments | Shares | Score |
| --- | --- | --- | --- | --- | --- |
| 1 | Philadelphia | 141,613 | 4,364 | 86,086 | 408,599 |
| 2 | Activia | 20,171 | 655 | 10,739 | 53,698 |
| 3 | Wyke Farms | 7,879 | 3,053 | 5,133 | 29,384 |
| 4 | Babybel | 25,041 | 330 | 608 | 27,525 |
| 5 | Anchor | 9,157 | 1,782 | 612 | 14,557 |
| 6 | Country Life | 11,818 | 334 | 446 | 13,824 |
| 7 | Cravendale | 4,964 | 959 | 321 | 7,845 |
| 8 | Lurpak | 6,538 | 206 | 214 | 7,592 |
| 9 | Pilgrims Choice | 1,868 | 1,067 | 1,023 | 7,071 |
| 10 | Lactofree | 2,091 | 1,802 | 290 | 6,565 |
Consumers are looking for topical content themed around events – such as Babybel's Royal Baby post which allowed users to celebrate the event – as well as content that inspires them and reminds them of friends and family.
"The brands that ranked highest in this analysis were those who looked beyond their product and understood the lifestyle and needs of their audience. This understanding allowed them to create relevant, useful and timely content which intimately drives the most valuable engagement from their audience," adds West.
And, if all else fails, competitions are a failsafe way to draw in consumers and incentivise engagement with a particular brand. The key for the highest entry levels, according to Headstream, is keeping the entry mechanism simple and the prize realistic so the audience feels they have a chance of winning.
Top three posts:
Philadelphia
Likes: 24,881 Comments: 938 Shares: 18,875
Philadelphia's quick and tasty spinach lasagne roll recipe was shared nearly 19,000 times, thanks partly to the eye-catching image of the finished dish.
The success of the post, according to Headstream, is likely to be down to the simplicity of the recipe and the fact that it contains spinach – appealing to health conscious members of the audience – and only takes 25 minutes to prepare.
The 4pm timeslot at which it posted also played a part. "Philadelphia's healthy and quick recipe was shared at the exact moment when their audience would have been looking for dinner ideas," says West.
Comments included followers' own attempts at the recipe.
Activia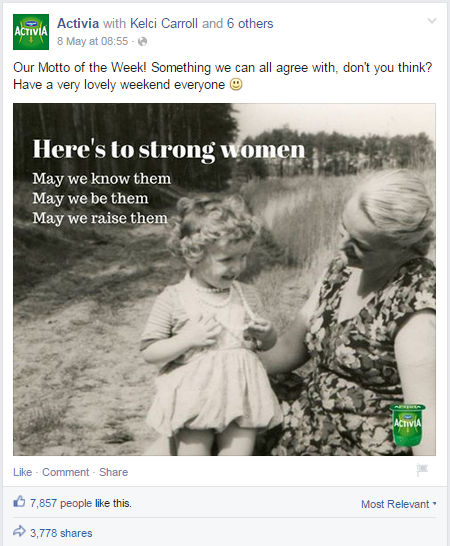 Likes: 7,857 Comments: 107 Shares: 3,779
Chimps in wigs, breathtaking views and heartwarming photos helped Activia claim the second spot in the chart of dairy's most social brands. These inspirational and funny posts are part of its motto of the week series and resonate particularly well with the brand's audience.
Its winning post is a clear example of this, appealing to its key demographic of females who are most likely to be making the purchase decision.
"This posts works particularly well because it does not overtly promote the product but affirms the brand with the popular and current trend of celebrating strong inspirational women," says West.
Wyke Farms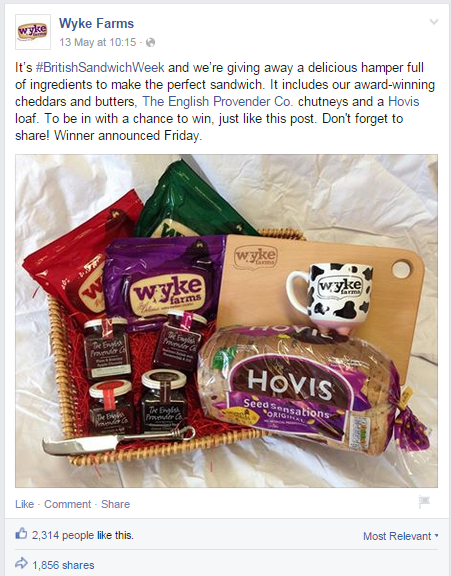 Likes: 2,314 Comments: 935 Shares: 1,857
Despite Babybel having three times as many likes as Wyke Farms, the Cheddar cheese brand scored third place in the poll thanks to its impressive number of comments and shares. Its top post, a good old-fashioned competition in celebration of British Sandwich Week, gained 2,314 likes and 1,857 shares.
Members who liked the post were in with a chance of winning a hamper full of ingredients to make a delicious cheese and chutney sandwich, including Wyke Farms cheese, butter, chutney, and a Hovis loaf.
"Directly reminding the audience to share is also a tactic which can increase shares, as demonstrated with this post," says West.
In association with:

Social and content marketing agency Headstream partnered with The Grocer to compile this study. The Grocer provided Headstream with an original source list of the twenty most socially active dairy brands to be considered. Their social performance was monitored for a one month period dating from 20th April to 20th May inclusively. Within this time frame we extracted each of the Facebook brand posts that were published on the relevant brand pages and analyzed their engagements. For the purpose of this report, an engagement is considered to be a like, comment or share on Facebook. We awarded one point for a like, two for a comment, and three for a share – based on their value to the brand. These figures were then totaled to form the combined score shown in the below ranking of the Top 10 most socially active brands.