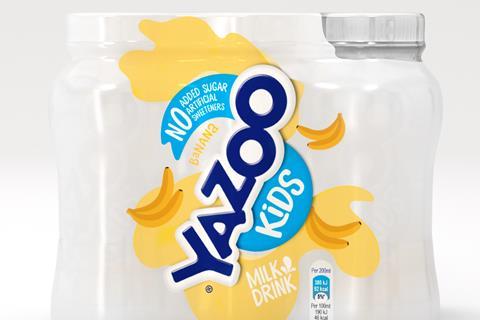 Yazoo owner FrieslandCampina UK enjoyed a 13.4% increase in sales last year on the back of strong growth for the brand and its own label operation, latest accounts have shown.
The Netherlands-based dairy co-op's British business saw revenues climb £6.2m to £52.3m in 2019, during which time it also launched hit Dutch flavoured milk Chocomel and a new Barista Coffee Co brand in the UK.
However, pre-tax profit fell by 61.9% in the 12 months to 31 December 2019, from £1.2m to £443,000, showed the accounts lodged at Companies House. Friesland cited a £395,000 "reversal of FX hedging gains" as a key driver in its fall in profitability.
The supplier's UK MD Will Jones insisted that 2019's financial position remained "good, despite the turbulent economic situation prevailing in the UK due to Brexit negotiations and the particular impact on exchange rate".
Yazoo, which saw sales climb by £6.7m to £62.8m last year [The Grocer Top Products survey/Nielsen] "continues to do well and outgrow the flavoured milk category", Jones added, while finished goods delivered an "excellent" volume growth of 7%.
The company said it had also improved the profitability of own-label contracts, despite "being confronted with an increase in distribution and selling costs and higher standard costs".
The directors expected that "present level of performance will be sustained and [we] have good growth plans for the next three years", Jones said.
Looking to 2020, the company had seen "big changes flow through our business plan" as a result of the pandemic, but had managed to adapt, according to its business unit controller for out of home Wayne Thompson.
Take home purchasing had risen, while larger baskets had reappeared in the mults, Thompson told The Grocer.
"We have seen the role of flavoured milk continue to play a part in consumers lives, be it through our smaller take home packs, to an increase of demand for our sharing," he added. "And of course, against a backdrop of something so serious as this pandemic, customers continue to seek a small window of an indulgent treat, through our premium offering of Chocomel."