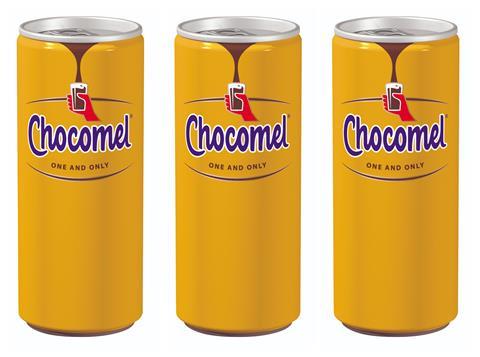 Yazoo owner FrieslandCampina has launched its Dutch chocolate milk brand Chocomel in the UK for the first time.
The brand, described as one of the Netherlands' "best-kept secrets" by the dairy co-op, marks Friesland's latest attempt to expand its UK portfolio with one of its top-selling Dutch brands.
Available in a 250ml can (rsp: £1.65), the product has gone on sale initially in the wholesale and convenience channels, and is aiming to tap an impulse market currently dominated by brands selling chocolate milkshakes such as market leaders Yazoo and Frijj, and Dunn's River's canned Nurishment drink.
Chocomel boasts more than 80 years of heritage in the Netherlands, and with sales of €59.3m last year [IRI], is bigger than brands such as Arla, Heinz and Nestlé.
The drink is also Friesland's third bestselling brand in the country after Campina and Optimel (which was launched in the UK as Optiwell in 2015 but delisted within a year due to poor sales), and eight cups were consumed every second in the Netherlands, the supplier said.
Chocomel had already seen its Dutch success replicated in other countries such as Belgium, so the time was right to bring it to the UK, said FrieslandCampina marketing manager Kate Allison.
"Chocomel has a unique premium taste. We've created an exceptionally smooth and chocolatey recipe that we're really proud of. Thick and indulgent, it offers consumers a truly luxurious treat."
The launch comes a month after the company's new UK MD Will Jones announced big ambitions to grow the business and hinted at new launches under a plan to double in size over the next five years.