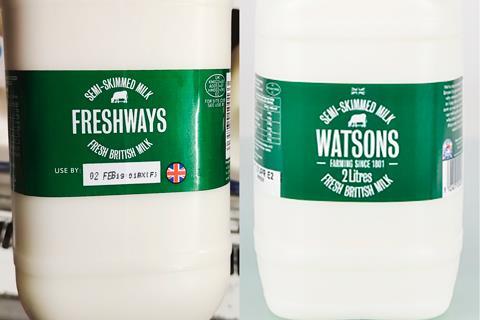 Mid-market liquid milk processor Freshways has adopted the branding of rival Medina's Watsons milk brand, in a sign of the deepening relationship between the two businesses.

Its milk bottles are now being distributed in bottles using a similar packaging design to the Medina brand, depicting an image of a cow surrounded by lettering shaped in a circle. The address on bottles now refers to Freshways' main depot in Acton, London.

Talks of a merger between the businesses first emerged in the wake of the collapse of Welsh processor Tomlinsons in October. However, Freshways MD Bali Nijjar dismissed the suggestion as "rumours" in November. Instead he explained that the two businesses were collaborating on "some contract packaging and swaps". However, the new branding points to a closer relationship with Medina.

The Grocer also understands the processors have divided up their distribution network. Many Medina customers based inside the M25 were now being supplied through the Freshways network, while the Medina network was used to supply customers outside the M25, said one wholesaler.
A Medina spokesman said: "Against the backdrop of a challenging fresh liquid milk market and in line with others in the sector, Medina Dairy is continuing to identify opportunities to maximise efficiencies and take out costs from its processing operations and distribution network.

"These include working with Freshways and other milk suppliers on a number of initiatives including undertaking contract packing for each other and leveraging our respective distribution networks.

"We have also jointly identified some opportunities to consolidate the distribution of our respective Freshways and Watsons branded milks.

"It is clear from the challenges that the industry faces, many businesses cannot operate in isolation. They need to be collaborative in their approach to survive."

Harnessing the synergies between the two businesses in such a challenged market was "a sensible move" said a dairy source. Another warned that the CMA "might take an interest" in the tie-up, however.

Medina and Freshways' combined turnover topped £380m in their most recent accounts. However, combined pre-tax losses were £4m.

Medina's contract to supply Sainsbury's, part of the same own label supply deal entered into by Tomlinsons in 2016, is due to end this summer. Freshways declined to comment.