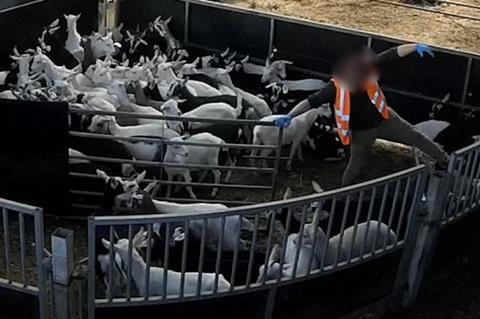 Goats' milk brand St Helen's Farm has halted supply of milk from one of its farms after a series of alleged animal welfare breaches were exposed by an undercover investigation.
The Kavli-owned brand, which sells its range of dairy products across the mults, said it had launched "a full investigation to determine the facts" of the allegations – first reported by the Independent today.
Goats were subjected to "a string of brutal attacks" at a farm supplying milk to St Helen's Farm, claimed the Independent report, based on undercover filming by vegan campaign group Surge. The video showed animals being punched, kicked, hit with a pole and slammed onto their backs.
Animal suffering was also prolonged when injuries went untreated, the report claimed, while the farm – one of a number based across Yorkshire and the Midlands to supply the brand – allegedly also had dead, dying and lame animals located across the property.
The claims were "totally unacceptable if true", said St Helen's Farm in a statement. It added its farms were "expected to comply with a rigorous code of conduct and have several animal welfare accreditations".
A Tesco spokesman confirmed it had "immediately suspended supply [of the brand's products] whilst we investigate the matter further". Waitrose has also withdrawn the brand's products from sale. Meanwhile, the BRC responded by stating its members members "take their responsibilities to animal welfare very seriously and will thoroughly investigate any evidence of non-conformity to ensure that any problems are immediately addressed".
The incident represents the latest blow to Norway-based dairy supplier Kavli, which saw a major recall of its Primula brand in June over botulism fears.
It warned earlier this month that it anticipated a "short-term" impact on its earnings as a result of the Primula recall, though product was due to start rolling back into stores towards the end of July.