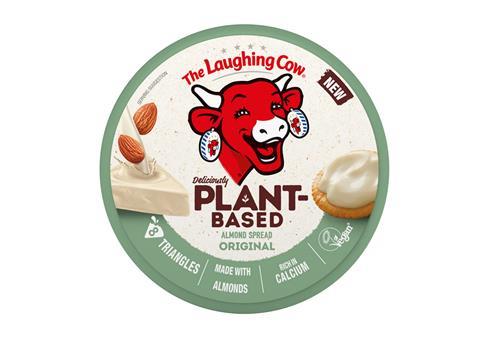 The Laughing Cow has taken its first steps into dairy-free cheese with the launch of a new plant-based variant.
Available in the brand's well-known triangle format, the Bel-owned brand said its NPD also represented the first time a UK brand had launched a plant-based alternative to cheese in portions.
The Laughing Cow Plant-Based (rsp: £2.50/8x128g) is made from almonds, is Vegan Society approved, and delivers the same spreadable texture of original Laughing Cow, according to the brand.
The SKU is dairy-free, enriched with calcium and vitamin B12, and each triangle contains 34 calories.
The launch was "reflective of our ongoing diversification of the Bel UK portfolio to enrich its fruit and plant-based ranges and meeting consumer needs", said The Laughing Cow senior brand manager Oliver Richmond.
The Bel-owned brand is hoping to tap into the appetite for convenient plant-based products, with the new launch expected to increase brand penetration and strengthen brand relevance.
"Enabling us to establish ourselves in a new category and allowing more consumers to enjoy the world of The Laughing Cow, the launch is designed to satisfy the growing consumer need for more plant-based products," added Richmond. "As the first plant-based alternative to cheese in portions, the convenient format is set to see sales soaring."
The plant-based NPD will launch into Asda and Sainsbury's this month.
Bel UK launched a plant-based variant of its Babybel brand in January 2022, which followed a plant-based Boursin launch in October 2021.T