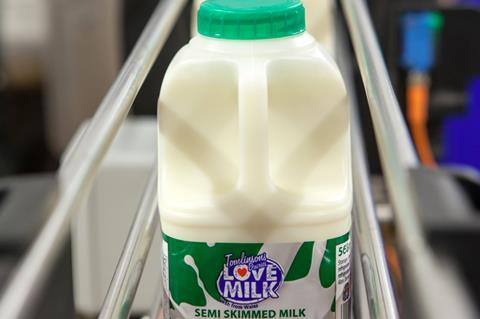 Unsecured creditors owed millions of pounds after the collapse of Tomlinsons Dairies could receive zero redress from its administration, PwC has confirmed.
The Wrexham-based processor – which supplied own-label milk to Sainsbury's, M&S and independent retailers across Wales – fell into administration on 14 October, ending months of industry speculation over its future.
Money owed to preferential creditors such as staff was due to be paid in full, according to a newly published statement of administrator's proposal document by PwC.
But it was likely a string of unsecured creditors owed money – including farmers, hauliers and Tomlinsons' milk supply partner Arla Foods – would be paid between zero and just three pence in the pound, said joint administrators Michael Denny and Peter Dickens.
Tomlinsons also owed £15.6m in loans to HSBC at the time of its collapse on 14 October, and a further £1.8m to Finance Wales Investments, part of the Welsh government's Development Bank of Wales.
However, FWI would likely recover none of its secured debt back, the administrators said, while the final figure recoverable to HSBC was "uncertain".
Tomlinsons had a total of 11 finance agreements in place and almost £12m due to unsecured creditors, the administrators' document said.
These included 72 farmers owed a total of £3.3m for 43 days worth of milk, £1.7m to Arla Foods and £89,000 to organic dairy co-op Omsco. It also owed £438,000 and £118,000 to haulage partners Lloyd Fraser Haulage and Willis Haulage respectively.
Administrators said Tomlinsons fell into difficulties after it started supplying Sainsbury's with own-label milk in 2017. The contract necessitated a doubling in its processing capacity to 200 million litres a year, funded by a mixture of debt, equipment finance, grant and equity.
"[But] having won the contract, the company made very significant trading losses in the ensuing two years," they said, with the processor posting a combined £7m loss in 2018 and during the run-up to its collapse in 2019.
Financial difficulties were further exacerbated during this year's spring flush, when the company suffered "a reduction in demand alongside maintained milk supply volumes, meaning the company had to find a home for surplus milk", the administrators added.
This continued a negative chain of events that ultimately led to the closure of the business in October. PwC said no buyer had come forward in the weeks following the announcement of the administration, meaning the company's assets would be sold off individually in the new year.