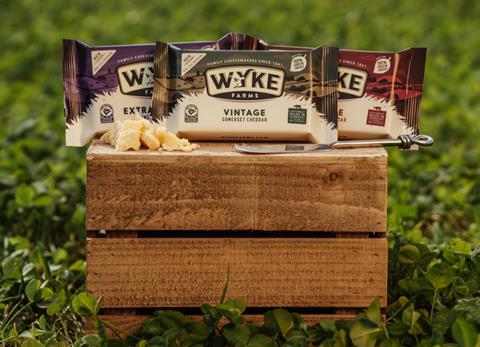 Wyke Farms has cut its use of plastic packaging by 35% following a core range rebranding.
The West Country cheesemaker's new packaging now includes a sketched Somerset landscape across its packs of Mature, Extra Mature and Vintage cheeses, while the wording 'Somerset Farming Since 1861' has been replaced with 'Family Cheesemakers Since 1861'.
A 'Lovingly Made in Somerset with British Milk' tagline has also been introduced, alongside a 'made with 100% green energy logo' in the top right-hand corner of each pack.
The company has also launched a new website that features a recipe catalogue and information on its '100% Green' and 'Net Positive Farming' project.
"Our new packs communicate the work being carried out here on the farm in Somerset; green energy, family farming, British milk and quality cheddar production are what makes us unique," said Wyke MD Rich Clothier.
Earlier this year it emerged the business had recorded its highest ever turnover with sales rising by 10% to £107.2m for the 12 months to 31 March 2020.