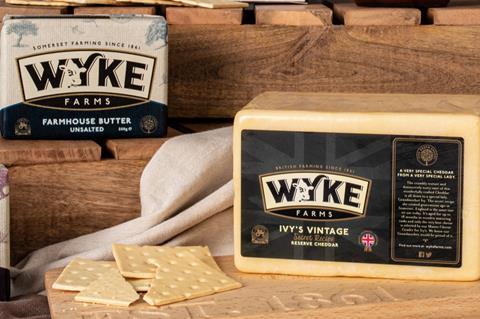 Wyke Farms' carbon footprint is 55% lower than the global average for dairy production, results of a study have found.
Agricultural consultancy Promar International measured the West Country-based cheesemaker's carbon footprint on its own farms and within its supply chain.
The assessment covered emissions from the management of livestock, including heifer rearing for milk production to the farm gate on a pilot group of farms in Wyke's supply chain, which included its own family farms and Michael Eavis' Worthy Farm, the home of the Glastonbury festival.
It found the supplier's emissions to be significantly lower than the global average, at 1.12kg of CO2 equivalent, compared to the UK average of 1.55kg of CO2 equivalent, and 55% lower than the global average of 2.5kg of CO2 equivalent.
The findings, which were compared to three Promar Carbon Benchmark datasets of conventional farms operating similar systems, also showed the Wyke Farms pilot group to be lower by 0.2kg of CO2 equivalent than the closest dataset average.
The pilot is the first phase of the Wyke Farms 'Net Positive Farming' project to work with its milk producers to reduce emissions. The supplier has previously been a trailblazer in the adoption of on-farm renewable energy and announced in May that the cheese it sells via Lidl would achieve carbon neutrality by the end of 2021.
"Somerset is the true home of cheddar cheese and is the best place in the world for dairy farming where we can work in synergy with our environment, rather than having to fight against it," said Wyke Farms MD Rich Clothier.
"Just by getting all our milk supplying farms up to the best 10% we can save 100,000 tonnes CO2 on the cheese we make. We are committed to a carbon neutral future for dairying – it is the only way forward."
Wyke Farms hit its highest-ever turnover last year, as sales rose by 10% to £107.2m for the 12 months to 31 March 2020.