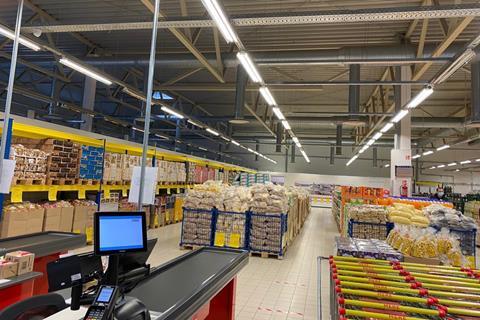 Russian discounter Mere has a long-term target of over 300 stores in the UK within eight to 10 years, The Grocer has learned.
The business, which claims it will undercut Lidl and Aldi by 20%-30%, is determined to scale its UK presence once processes have been established and bugs ironed out this year.
As revealed by The Grocer in May, the hard discounter plans to open its first four UK stores this year, in Preston, Castleford, Caldicot and Mold. The first, in Preston, is now set to open in mid-July, a date pushed back from June as Mere meets with suppliers and manufacturers and continues to fit out the site.
The business is also currently advertising for staff for both the Preston and Caldicot stores, including an assistant manager to handle day-to-day running.
Mere's unusual operating model sees suppliers required to deliver directly to stores, and paid only for stock that is sold. Food will be displayed on pallets in stores of about 10,000 sq ft, including a walk-in chiller.
Each will have a maximum of 1,200 SKUs across ambient, chilled and frozen, and eight staff, including about four cashiers and three handling deliveries.
The extreme low-cost operating model is seen as non-negotiable by Mere, and fundamental to making it unlike any existing UK retailer, with prices a third cheaper but also no customer service.
Mere's Russian discounter parent Torgservis was founded in 2009 in Krasnoyarsk, Siberia, by entrepreneur brothers Sergei and Andrei Schneider. In Russia, where the businesses trades as Svetofor, it has over 1,000 stores.
It began opening stores in Europe under the name Mere in 2018, and is now in Germany, Poland, Romania, Lithuania, Latvia and Ukraine, with plans to enter Italy, Spain, Greece, Bulgaria and the US, as well as the UK. It has a claimed 3,200 stores globally.
In its UK growth plans, the business is understood to be targeting any part of the country where it can lease sites meeting its requirements, including accessibility from major roads.
"The arrival of the Siberians to the UK is interesting and all those in the discount arena should be paying attention," said Shore Capital analyst Clive Black, calling the model a "hark back to the early days of limited assortment supermarkets in the UK".
"Mere is right that in any market there are shoppers that seek out deep value [over service]," Black added.