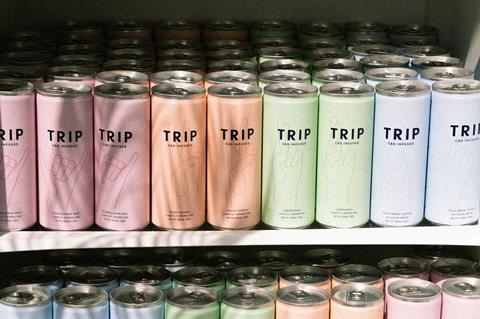 CBD products, including the UK's fastest growing soft drinks brand, insist it's business as usual despite new advice issued by the Food Standards Agency recommending a huge reduction in the maximum daily dosage to just 10mg.
The FSA said the new advice – which lowers the recommended maximum dosage from 70mg – came after evidence from the industry and its independent scientific committee.
It said there was "no acute risk" from exceeding the 10mg recommended daily limit, but that there was "evidence of some adverse impacts on the liver and thyroid" from consuming products above this level over a prolonged period.
The new advice means single servings of a slew of CBD brands, including drinks and other products from Trip and Goodrays, exceed the recommended maximum daily dosage.
Trip's drinks, which are listed in major retailers including Waitrose, Sainsbury's and Asda, contain 15mg per 250ml can. A full 1ml dropper of its standard strength CBD oil also exceeds the maximum daily dosage, containing 20mg of CBD.
But Trip director James Edmunds told The Grocer that its drinks remained fully compliant with all regulations and were safe to consume as "not all CBD is created equal".
"We fully support and respect the FSA's emphasis on food safety," he said. "CBD safety depends on its purity; [but] not all CBD is created equal. The FSA updated daily guideline of 10mg CBD dosage is based on the lowest grade across a multitude of studies. Studies conducted on our own source of CBD, reviewed by the FSA, generates a safety limit of 105mg, equivalent to seven cans per days. This demonstrates the materially different level of purity in Trip's products."
Trip is the fastest growing soft drinks brand in the UK, according to NielsenIQ data, and Edmunds stressed that "messages from our retailer partners have been overwhelmingly positive".
"They are clear that Trip is in full compliance with the regulations," he added.
Similarly Goodrays founder Eoin Keenan pointed to categories including alcohol and soft drinks, where products "which have a higher than recommended daily intake" were allowed to be sold.
Goodrays canned drinks contain 30mg of CBD per 250ml serving, and its gummies contain 25mg per sweet. But "it's in no way unusual," said Keenan, adding. "We've got incredible relationships with all our retailers and they see us as an authority and expert in the space."
The FSA, however, remained tight-lipped about the prospect of brands needing to reformulate to receive authorisation as novel foods.
"We understand that this change to our advice will have implications for products currently on the market that contain more than 10mg of CBD per serving," FSA CEO Emily Miles said. "We will be working closely with industry to minimise the risk that consumers are exposed to potentially harmful levels of CBD."
Presently, CBD products are currently allowed to be sold in the UK if there is a novel food application with the FSA linked to them.
More than 12,000 products are on the FSA list. Products on the list cannot be reformulated and a new, reformulated product would require a fresh application.
The body said it was reviewing how it managed the list in light of the new guidance.