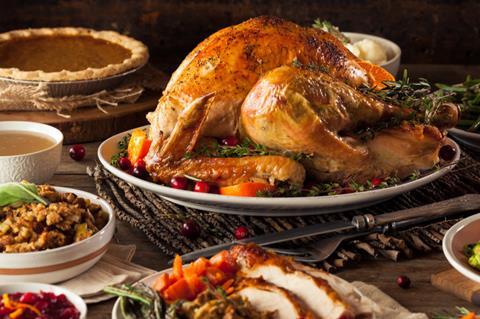 Turkey suppliers reported a "one in a million" sales period over Christmas, with demand showing double digit growth despite fears around the impact of coronavirus restrictions over the festive period.
As The Grocer reported in November, sales of smaller turkeys surged significantly ahead of schedule as shoppers bought up lighter birds in anticipation of smaller gatherings at Christmas. Suppliers also anticipated bumper sales due to there being up to five million extra Brits in the UK than in a usual festive period.
These expectations were borne out, with the British Poultry Council's turkey industry lead (and Kelly Turkeys MD) Paul Kelly reporting suppliers had been "very pleased" with sales.
Kelly, whose premium KellyBronze birds are sold primarily through the independent sector, said his sales were up 21% in volume and 13% in revenue compared with an average year.
"I would normally want about 1,500-2,000 left [as a buffer after Christmas] but I've only got 182 turkeys left out of [an initial] 62,000," he said.
People did trade down to get a 3kg crown rather than a 5kg crown. But while there was trading down in terms of weight, volumes were way up. It was a one in a million Christmas. It can't happen again."
Kelly added that UK supplies had held up thanks to the continued closure of most foodservice outlets over the festive season.
His comments were echoed by BPC CEO Richard Griffiths, who said the trade body's membership of major poultry suppliers had experienced a "very good Christmas", driven by strong demand.
However, the picture was much more mixed in the mults, with Kantar reporting that while 6.5 million households still bought a turkey for roasting during December – a similar level to 2019 – shoppers spent about 5% less, pointing to the prevalence of smaller birds in baskets.
The Grocer understands confusion over Covid restrictions in the run-up to Christmas may also have affected sales. According to a senior food sector source, one major retailer was said to be "in a spin" when the government ditched its plans to allow households to mix for five days over the festive period, due to concerns order cancellations would lead to an increase in waste.
"Generally speaking, turkey sales were strong," said a separate, senior poultry sector source. "Most retailers sold a little less fresh birds and a little more frozen birds as shoppers sought to plan ahead in expectation of changes to Covid restrictions, and bought ahead of time.
"But there is no doubt the changes to arrangements at the last minute did create more waste, particularly on turkeys on Christmas Eve and Boxing Day," they added. "The peak in sales arrived at least two to three days earlier."