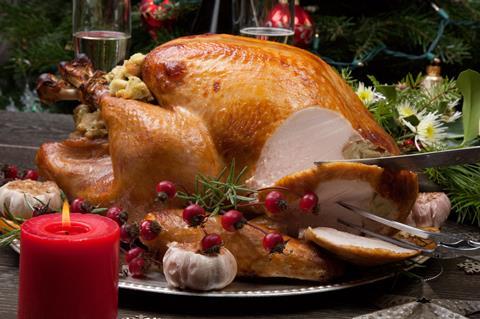 Turkey suppliers are predicting a bumper Christmas as coronavirus is likely to see Brits cut down on overseas travel.
Last year, travel association ABTA estimated five million holidaymakers were away from the UK over Christmas and new year. But it said this week that number could be "a lot lower" in 2020.
It could be good news for turkey producers that supply retail, with in-home consumption of the meat expected to boom.
"The eating out-of-home occasion and holiday market is going to be much smaller and our view is they will convert into retail sales," suggested Bernard Matthews commercial director Neil Cooksey.
"People want turkey on their plates at Christmas and that's never going to change. Do I see purchases and orders going up this year? Yes I do.
"We foresee more eating occasions this year with more turkeys purchased for smaller occasions as people socially distance, or if we're in lockdown again."
With smaller gatherings anticipated due to social distancing rules, Bernard Matthews was exploring how to educate consumers about utilising whole birds over a longer period both through on-pack and online messaging, he said.
The sector should benefit from a "lingering consequence of lockdown, particularly the lack of family contact", added Avara Foods general sales manager Catriona Lee, as more people aimed to spend time with loved ones.
"Economic concerns are likely to influence decisions too," Lee added. "With potential concerns about cost and smaller budgets, eating at home is an obvious option but, with restrictions affecting how many households can meet, options to share the cost are limited."
Avara's own research showed estimated that 69% of consumers would be limiting their at-home Christmas dinner to just their direct household or one other.
"Our expectation is also that consumers will aim to 'shop early', over concerns about availability and shopping in-store at the busiest time of the year."
The premium turkey market was also anticipating a jump in sales, said Kelly Turkeys MD Paul Kelly, who had already seen a 13% uptick in Christmas orders from independent butchers.
"There will be a lot of mouths to feed and Covid-19 has brought families together. I expect those that usually go on holiday at Christmas are more affluent, so they are going to buy into the premium end of the turkey market," he added.
A second lockdown or tighter social distancing measures could also push consumers to more profitable joints, Kelly suggested. "If you can't go from household to household, then do you buy a big turkey that's going to feed 10 to 11 people? Probably not. You'll want a small joint. But that might not be an option because there would not be enough joints to go around.
"We can get more turkey crowns out but if they want 1kg lattice joints we can't do that because there's not enough time."
But he warned the introduction of stricter measures restricting festive family gatherings "would be a big political decision" for the government.
Away from the Christmas turkey market, Kelly said coronavirus had been a "disaster" for turkey suppliers reliant on foodservice. The shutdown of the European foodservice sector, which consumes more turkey year-round than the UK, meant the market was flooded with surplus meat, which drove prices down from about £4/kg to £2/kg.
But it was unlikely this would drive down UK retail prices, he said, unless independents "saw pound signs" and bought in continental butterfly cuts, as the mults sold 100% British turkeys.
Last year, wholesale turkey prices were pushed up after a major heatwave on the continent led to a shortage of eggs. France, which supplies around a quarter of the eggs used by UK turkey farmers, took a 10% hit in its 2019 output due to the extreme weather conditions. Bernard Matthews said supplies were "in a good place" this year.
Meanwhile, the return of Bernard Matthews Turkey Twizzlers has been "phenomenal" with packs having sold-out in their first week back on shelves for 15 years, according to Neil Cooksey.
At the time of writing, the Twizzlers were still out of stock on Iceland's website.
It comes after Bernard Matthews completely reformulated the product after high-profile criticism from Jamie Oliver and health campaigners led to the range being discontinued in 2005.
The new incarnation now contains more than 70% turkey (up from 35% in its previous incarnation), with 87 calories per Twizzler, compared to 137.