Lidl last week became the first UK supermarket to carry method of production labelling on meat. It introduced new labels on fresh chicken in a trial that could be extended to other fresh meat categories.

The move is aimed at "improving transparency and helping customers to make more informed decisions".

But not everyone is convinced. Despite Lidl consulting with Red Tractor, Compassion in World Farming, RSPCA and the NFU on its new labels and gaining plaudits from animal welfare groups, some are warning consumers could end up being misled.

So what are the concerns? And are they valid?

A key objection is that Lidl's new labels - which split fresh chicken into five categories, ranging from Indoor to British Organic - are too simplistic. Production standards are complex and nuanced, and can't be neatly divided into categories, warn critics. Doing so "oversimplifies the hard work farmers put into ensuring high animal welfare standards are upheld regardless of the production system" says NFU deputy president Guy Smith.

If Lidl were to expand the labels to other meat categories, that problem would only increase, adds Nick Allen, CEO of the British Meat Processors Association. "In beef, we've got animals that might be reared in one system and then moved on to another finishing system," he says. "The definitions of ­different production simply don't exist."

What's more, consumers might wrongly conflate production standards with welfare outcomes, adds Allen. Only an assurance scheme such as Red Tractor (whose marque will continue to be on Lidl packs, alongside the new labels) can enable consumers to make reliable welfare choices, he argues. "My concern would be that you ­confuse consumers."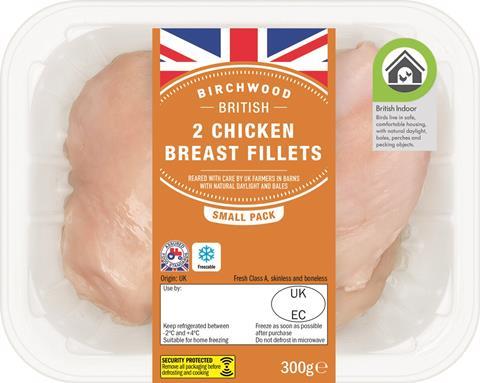 German success
Lidl, for its part, argues consumers are demanding more detailed information about how the meat they're buying was produced. It is already using method of production labels in Germany, where the system has been a "success" according to Lidl GB chief commercial officer Ryan McDonnell.
"We know that our customers want more information on pack so that they can make more informed purchase decisions, and we are keen to improve transparency and drive greater awareness of where our food comes from, in order to help them achieve this," he says.
Granted, the labels have proved controversial in Germany too, with advocacy group Foodwatch calling them "misleading", but McDonnell points out the German system is "slightly different" to the one being used in the UK. It has four instead of five tiers, for starters, and is used not just by Lidl but other retailers such as Aldi, Rewe and Edeka.
"The labels differ slightly in terms of the categories and design, so they cater for the British market and consumer," says McDonnell. "In the UK, we have had farm assurance schemes in place for some time, so our labels have been designed to complement and work alongside the likes of RSPCA Assured and The Red Tractor, rather than do the same job.
"We recognise there are varying views within the sector, which is why we have taken the time over the past year to consult closely with Compassion in World Farming, RSPCA, Red Tractor and the NFU," he adds, while stressing that it's a pilot only at this stage, which will inform any further steps.
"This trial is a first step and it's important that we get it right. Over the coming months we will continue to work closely with key stakeholders, whilst analysing the response from our customers, so that we can get as much detailed insight as possible. The current timings of the trial and any subsequent roll out to other meat categories is therefore flexible at this point."
No matter the outcome of that pilot, the production labelling debate isn't going anywhere. Even if voluntary schemes like Lidl's don't last the distance, mandatory labels could be on the cards. Last year the government made what Compassion called "positive noises" when Michael Gove pledged to reform labelling rules.
It's not a prospect Allen relishes. "There's a lot of talk about mandatory labelling systems and one size won't fit all. Even the legislators will run into problems."

The jury is, of course, still out on that. What's clear is that method of production is a debate retailers and producers won't be able to avoid.


Steve is deputy news editor at The Grocer.

He's responsible for covering online grocery and the discounters, and for editing The Grocer's analysis features. He's an experienced journalist who has contributed to a range of national newspapers including The Mail on Sunday.

Follow Steve on Twitter: @Steve_Farrell_