Startups are providing 59% of growth, yet 81% feel they lack the support their growth deserves. Do they have a point?
Walk through a supermarket and chances are you'll see some colourful 'Instagrammable' products from startups that three years ago did not exist. Bang on trend, they promise millennial consumers the innovation they are crying out for.

And the numbers are proving them right. Startups account for 59% of total category growth in grocery, according to the Food & Drink Federation, while a recent McKinsey report found big fmcg players caused a 6% drag.

But new research by Young Foodies, which represents food and drink startups, has found that 81% of its members feel they don't get the support the growth they're delivering deserves.

And while supermarkets are by no means the only guilty party, almost two-thirds singled out the major mults for their lack of support and flexibility, with over half feeling less prioritised than larger suppliers.

So what are supermarkets doing to support challenger brands?

Sainsbury's efforts are arguably the most visible in store. It created its Future Brands incubator scheme in May last year, offering startups a potential listing in exchange for exclusivity for a minimum of 12 months. The companies also receive guidance, monitoring and free access to data, as well as preferential payment terms of just seven days.
June this year saw the start of phase two: Taste of the Future, with bays of startup brands (alongside NPD from big brands too) in 71 stores. The products are stocked over a 14-week period on the understanding that 'if it sells it stays'.

Laura Clacey, co-founder of Sxollie Cider, one of the first brands to be showcased, says Sainsbury's has been "incredibly supportive" by offering mentoring, free data and advertising in store. "As a small business we would never have been able to achieve what we have without their support."

But Sainsbury's is by no means the only supermarket trying to help challenger brands. Since launching its incubator scheme in 2017, Tesco says it's worked with 30 new suppliers and launched over 100 new products from them. Waitrose also offers preferential terms of as little as seven days for small suppliers, and as part of John Lewis its JLab was one of the first incubator schemes for startups - a move that Marks & Spencer has since adopted. Meanwhile Asda helps get small suppliers ready to list by running two external academies. And so on.

Yet even those startups lucky enough to get a leg-up from one of the supermarkets offering a programme still face huge obstacles to success, says Young Foodies founder Theadora Alexander.
The exclusivity bind
A big drawback with some schemes is exclusivity. While supermarket support was crucial to new brands entering the market, retailers should not demand exclusivity "regardless of the brand size or the investors behind it", argues Vita Coco CEO Giles Brook.

"Supermarkets are doing a fantastic job, but some are being a little bit too short-sighted in terms of their demands, which risk clashing with founders' and investors' ambitions and needs," he says.

"If this mentality and stipulations carry on, the days of creating an Innocent, a Propercorn or a Pip & Nut are going to be really challenging because you can only become a big household brand by making sure you are widely available to consumers."

But exclusivity is not the biggest hurdle for challenger brands dealing with supermarkets, argues Dr Will's co-founder Liam White. "The biggest operational challenge for a small business" is cashflow.

Startups have to pay up front for manufacturing and logistics, but retailers often keep them waiting up to 90 days for payment, leaving them starved of cash and unable to invest.

"There is definitely scope for retailers to look at shortening payment terms," White told a Young Foodies conference last week. "If we can save money, that would enable us to grow quicker and spend on investing."
"Supermarkets can do more and give better terms as the business grows"
Sainsbury's and Waitrose have cut payment terms for small suppliers to seven days, while Tesco and Morrisons pay brands after 14 days if they do less than £100k of business a year with them. Asda does the same but at a £250k threshold.

The trouble is, this relief is of little help for a growing business, and that's often where cashflow becomes most problematic.

"Shorter payment terms are a great initiative but given the relative size of those startups, the supermarkets can do more and give better terms as the business grows," says Brook.

Even the £100k threshold is "pretty small", Alexander adds. "The real challenge is when you are genuinely scaling up with the retailers. Any major listing you would expect to be over £100k in a year."
At which point, despite being far from the sales levels generated by major fmcg brands, startups revert to standard payment terms and receive equal treatment.

So why don't the major retailers go further? Sainsbury's head of Future Brands Rachel Eyre points out that "retailers aren't here to help challenger brands be successful".

"We are not on a one-retailer crusade to champion challenger brands at the expense of established brands, but we are on a crusade to offer our customers the choice they want and that includes finding ways to work more effectively with challenger brands," she said.

"It takes a little bit more hand-holding and nurturing and the need to be more flexible, but as a business there are commercial opportunities in working with challenger brands."
Discounter differentiation
One such opportunity is differentiation from the discounters, Alexander says. Instead of simply taking them on in an unwinnable price war, suddenly "they aren't competing on price, it is not a commoditised range any more but an interesting new one that can put value back on shelf".

Supermarkets can also benefit from establishing loyal long-term relationship with startups, which will help them "get fit for the future", Brook adds.

As millennial consumers shun household brands, "I cannot see how a supermarket can be competitive and do well unless it is embracing challenger brands much more wholeheartedly and across all categories", he concludes.

With Aldi and Lidl now accounting for a combined 14% of UK grocery sales [Kantar October 2019], on a march that shows no sign of slowing, the other major supermarkets could increasingly find the commercial interests of challenger brands are more aligned with theirs than they thought.
What are the supermarkets doing?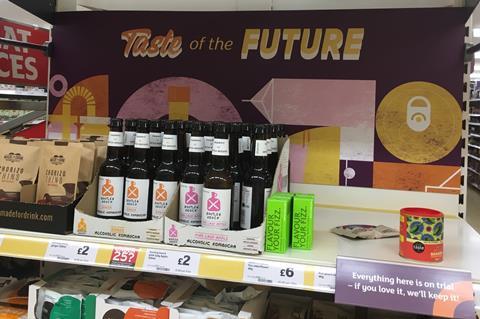 Tesco: Since 2015 payment terms for small suppliers (up to £100,000) is 14 days, with no exclusivity restrictions. In 2017 an incubator programme launched, offering selected startups a year-long programme of marketing guidance, customer insight and advice.
Sainsbury's: Future Brands launched in June 2018 and offers promising startups a listing in exchange for exclusivity for at least 12 months. Brands receive mentoring, access to data and preferential payment terms of seven days. NPD from big brands can also be listed in the related Taste of the Future programme.
Asda: Asda's Local Sourcing team offers smaller suppliers price and location promotions, including in-store sampling as well as 14-day payment (with no restrictions). Asda also runs two external academies to support small local suppliers.
Morrisons: As part of its 'local foodmakers' initiative, Morrisons sources food from local suppliers, offering simpler onboarding and regular feedback. Payment terms are 14 days. Exclusivity terms not disclosed.
Aldi: No information provided.
Lidl: No information provided.
Co-op: No information provided.
Waitrose: Payment terms are as low as seven days and with no exclusivity requirement. Grocery suppliers have also been incorporated in the John Lewis JLab startup incubator scheme, which launched in 2014. A winning pitch can gain a listing, access to customer data and, potentially, financial investment.
Marks & Spencer: There are no preferential terms but M&S does invest in promising startups, including non-food, through an exclusive retail incubator partnership with the Founders Factory launched in 2018. So far, it has taken a stake in six startups.
Iceland: No information provided.
Ocado: Since 2017, Ocado has run a Britain's Next Top Supplier competition. It also hosts quarterly 'meet our buyers' days. Ocado also says, as an online retailer, it can list small suppliers more easily.
Whole Foods Market: Runs an Instagram competition. Selected startups get the chance to pitch to buyers, potentially securing a listing and support on growth challenges. No special payment or exclusivity terms.