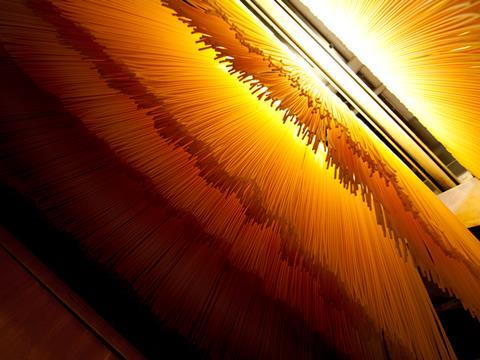 How does a pasta maker futureproof its business at a time when low-carb diets are on the rise and consumers are increasingly drawn to alternative grains?
For Barilla, part of the answer lies in investing in precisely the kinds of startups and entrepreneurs that are threatening to disrupt its core portfolio.
The iconic Italian pasta producer has just launched a venture capital fund and innovation hub called Blu1877 (named after the company's trademark blue brand colour), which it plans to use to invest in disruptor brands.
In return, startups can expect decades worth of expertise in how to scale up products as well as an opportunity to stress-test ranges in Barilla's pilot plant in Parma, which is home to 10,000m2 of state-of-the-art R&D and production equipment.
For Victoria Spadaro Grant, chief technology officer at Barilla and president of Blu1877, it's all part of keeping the company's thinking fresh and open to new ideas.
"With Blu1877, we really want to extend and stretch our reach by collaborating with people who think differently to us," she says. "It's a way for us to try out things that are well beyond what we would normally do."
'Healthier' alternatives to pasta
Key investment targets for Blu1877 include startups working with pasta (of course), baked goods, condiments, fruit-based products, sustainable diets and meal solutions, with alternative grains and carb sources a particular area of interest.
"Pasta as we know it is not going to disappear," says Spadaro Grant. "However, we recognise a growing number of people are looking for alternatives they consider healthier, whether that's products made from legumes or different grain varieties. The partnerships and investments through Blu1877 will open Barilla up to a world that will be a very significant driver of growth in the future."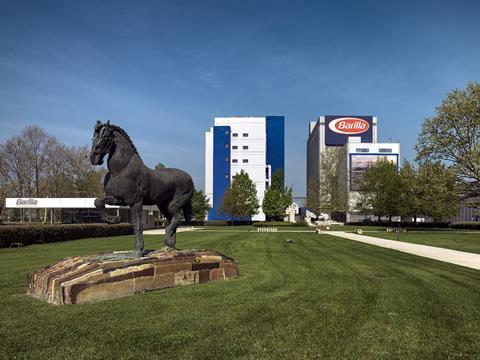 Experiments around trendy new carbs are not enough, though. Blu1877 is looking for entrepreneurs that are a good fit for Barilla's values. "We want people who fit within our principles," says Spadaro Grant. "We are looking for startups that embrace our approach and share our commitment to sustainability. We want people who want to help us solve some of the big problems faced by humankind, whether that's obesity, food waste or hunger."
Blu1877's first publicly disclosed investment, in San Francisco startup ReGrained, which upcycles used grain from beer production into snack bars, is a great example of what the fund is looking for, she says. Blu1877 invested in the company earlier this year (Spadaro Grant won't reveal the size of the investment), having been impressed with ReGrained's innovative approach to tackling food waste.
Other partnerships and investments are in the pipeline, though Spadaro Grant won't be drawn on any details at this stage, saying only that Barilla's equity stake will range from "very little to a lot".
The "end game" with all of Blu1877's investments (ReGrained included) is to ultimately bring them under the Barilla corporate umbrella, but Spadaro Grant insists the company won't rush that process. "We are talking about years," she says. "We want to give startups space to breathe; we recognise that they have to develop a level of scale first."
She adds: "We are not doing this for a financial purpose. We are not a charity and we want to invest in viable businesses, but we are not after huge financial returns either. I'm sure my CFO could think of much better ways to make money than to invest in startups. For us, this is about a different way to drive growth."