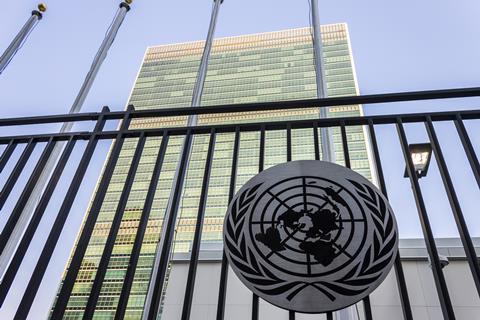 The Co-op has become the first British retailer to become a signatory of the UN's 'Our Only Future' campaign.

The initiative is to be launched later today at the UN Climate Action Summit in New York. It calls upon global businesses to make critical contributions to help cap global temperature increases to 1.5°C above pre-industrial levels.

The move follows Co-op's announcement earlier this year that it had committed to further reductions in its greenhouse gas emissions of 50% by 2025, having already halved its GHG emissions in the 10 years from 2006.

In order to meet the targets, the Co-op is making changes such as using natural refrigerants, and minimising the environmental impact of its products through responsible sourcing. This includes its commitment to sustainable soy. All Co-op stores, offices and funeral homes already use 100% renewable electricity.
The Our Only Future's emissions reduction targets will be independently verified and assessed by the Science Based Targets initiative.

"Today is an important day in the global fight to combat climate catastrophe and we commend the UN in initiating such a large-scale call to action. It's pleasing to see our Co-op take its place alongside other prominent businesses who share our desire to take immediate and decisive action," said Co-op retail chief commercial officer Michael Fletcher.

"Accelerating efforts, by working collaboratively with independently agreed, accountable science-based targets in place, is the only way to proceed. As a co-operative retail business it's imperative that we lead the way in doing what's right - and that is to ensure we have a healthy, sustainable natural environment to pass on to future generations."

In an open letter to worldwide business leaders in June, one of Our Only Future's main advocates, UN special envoy for the 2019 climate summit, ambassador Luis Alfonso de Alba, said: 'We need concrete, realistic plans by 2020 to reduce greenhouse gas emissions by 45% over the next decade, and to net zero by 2050. Climate change requires an unprecedented effort from all sectors of society and business leadership demonstrated by setting science-based targets at 1.5°C will send strong market signals as we look to identify the scalable and replicable solutions needed to secure a world where no one is left behind.'