Watch The Grocer Cup 2020
For years after Ocado launched in 2000, people still referred to co-founder and CEO Tim Steiner as 'the merchant banker'. "Even when I'd been running Ocado for twice as long as I ever was with Goldman Sachs," Steiner says.
They don't call him that any more. Steiner is now known as one of the global grocery sector's tech titans, Ocado's highly automated warehouses powering the online operations of many of the world's leading supermarkets.
It's been what he has self-deprecatingly called "an 18-year overnight success story", and as demand for online grocery soared in the wake of the pandemic, culminated this year in it overtaking Tesco – temporarily at least – as the UK's most valuable retailer.
But the foundations for its success have been laid over many years, from early IT breakthroughs like the launch of the first online grocery app in 2009, to the suite of patents it's gone on to develop (over 350 and counting), which now power its Ocado Smart Platform.
These developments have helped seal breakthrough deals, starting with Morrisons in 2013 before a string of international supermarket chains signed up, including a mammoth deal with Kroger in the US in 2018. And with perfect timing, 2020 has seen the first of its international CFCs open in Canada and France.
The deals finally put paid to naysayers who had doubted its business model. Not only was there a keen market for automation in food, but Ocado had emerged as the sector's trusted vendor.
Another highlight of Steiner's career was the £750m deal to form a 50:50 joint venture with Marks & Spencer to control the retail arm of Ocado's business, Ocado Retail. It went live in September and early indications are encouraging, with Ocado upping its profit guidance.
So, does Steiner consider Ocado a grocer still, or a tech firm? "We're perceived to be a grocery company/technology company/logistics company," says Steiner. "For the first 18 years of our life, grocery was probably the largest part. Today technology is. But it's technology focused at the grocery market."
That shift towards tech was organic, rather than a "eureka moment". As Ocado grew its food retail business, it needed technology to make it more efficient and profitable. It wanted best in breed systems and robotics to do so but struggled to source them.
"We couldn't buy them, so we developed them ourselves," Steiner explains. "We had to invent so much of it."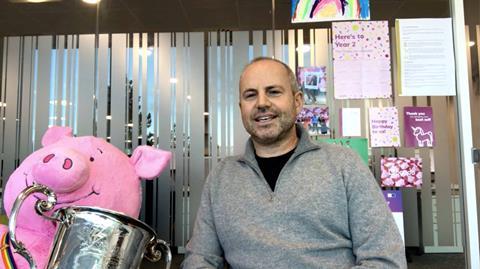 With that tech under its belt, Ocado quickly realised it could grow by partnering with local grocery players, rather than taking Ocado.com to other regions. Investment was ploughed into tech and talent. The mixed focus used to make analysts and commentators hesitant about Ocado's potential.
"People want to put us in a box," Steiner says. "We think they make sense together."
And the approach has now been proven. "We always had a lot of faith," Steiner adds. "That's not to say we dismissed the naysayers – we wanted to understand why they thought we wouldn't succeed – in case they had worked something out that we hadn't understood. But when we listened to their arguments and thought it through, we were confident we should carry on. So we did carry on and persevere."
Ocado's story has not been without its setbacks, most notably perhaps the fire at Andover in February 2019, which saw the ultra-automated CFC burnt to the ground. And Steiner's success, and Ocado's valuation, is resulting in a growing number of lawsuits.
But it's enjoyed its fair share of luck, never less than this year. The retail arm, despite capacity constraints caused by the Andover fire, has grown its share of UK grocery rise from 1.4% to 1.8% since the start of the year, according to Kantar. But as Steiner says "the current crisis is proving a catalyst for permanent and significant acceleration in channel shift globally, which we believe will redraw the landscape for the grocery industry worldwide. The acceleration in online grocery provides us with greater opportunities than ever before," Steiner says.
To capitalise on the opportunity, Ocado – which went public in 2010 – launched a £1bn capital raise in June this year. This month it announced the acquisition of two robotic firms to automate online grocery further still.
With those acquisitions comes the opportunity to find and support more customers beyond grocery, too.
It seems Steiner's strategy and his belief in it, really is, as he puts it: "The best way to tackle the world."
The Golden Week
Every day this week on thegrocer.co.uk at 3pm we'll be announcing the winners of The Grocer Gold Awards.
Tuesday 10 November: Factory Manager of the Year
Wednesday 11 November: Business Initiative of the Year
Thursday 12 November: The Grocer Cup
Friday 13 November: The Grand Finale announcement of all the winners