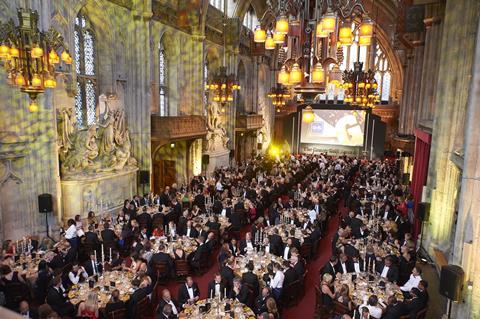 The Grocer Gold Awards 2022 is now open for entries as the countdown to the June event at the Guildhall in London begins.
Entrants have until 7 March to finalise their online submissions for this year's categories, which range from Food Brand of the Year to Independent Retail Chain of the Year and the coveted title of Grocer of the Year.
There are 28 categories open for entries this year, plus five that are decided without entries: Store Manager of the Year; The Grocer 33 price, service & availability awards; and Britain's Favourite Supermarket.
The entered categories will be whittled down by our team of expert judges to form a shortlist, which will be announced at the end of April.
The awards ceremony will once again be held at the prestigious Guildhall, London, on 14 June.
Entries cost £195 + VAT and tickets for the night are £405 + VAT, or £4,860 + VAT for a table of 12.
"Once again the grocery sector has done a brilliant job in the last year, facing into all the challenges of another tumultuous year, creating new solutions, and tapping into new opportunities," said The Grocer editor-in-chief Adam Leyland.
"The Grocer Gold Awards celebrates the industry's achievements like no other event, shining a spotlight on brilliant work, while also rewarding and motivating individuals and teams that have been central to those achievements in front of a peerless audience at an amazing venue."
For more information and to enter, visit The Grocer Gold Awards 2022 site.
The Grocer Gold Awards will be sponsored by Aqua Carpatica, Noumi, the Post Office and SHS. For sponsorship opportunities please contact cathy.mcdonagh@thegrocer.co.uk.