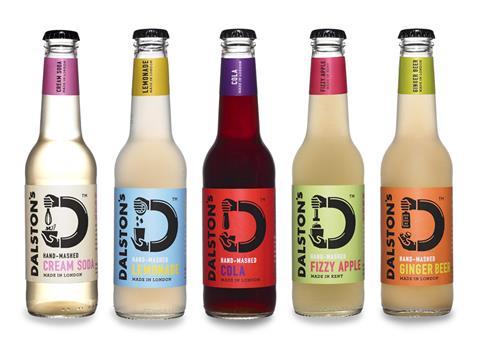 Top story
Serial entrepreneur Giles Brook has backed premium soft drinks brand Dalston Cola to help the business scale up.
The Grocer reveals this morning that Brook, who as a partner in Urban Fresh, owners of Bear and Urban Fruit, earned a big payday last December when it was sold for £71m to Lotus Bakeries, has taken a "significant" minority stake in the drinks firm to help in its expansion.
Dalston's has also poached Cawston Press sales director Dan Broughton – a former alumni of The Grocer's Top New Talent awards – to act as MD and spearhead the commercial side.
The all-natural, hand-made brand, founded by former chefs Duncan O'Brien and Graham Walker in 2013, has added cream soda and fizzy apple variants to the three-strong range and is planning to grow distribution significantly.
Brook said: "Every category needs a challenger brand to buck the trend and shake things up. If you look at what has gone on in craft beers there is a big opportunity for someone to do craft soft drinks well - and Dalston's can do in that space what Fever-Tree has done in mixers."
Click here to read the full story.
Morning update
Elsewhere on The Grocer this morning we report on a record year for jam and marmalade maker Tiptree. Parent company Wilkin & Sons has increased sales by 10.6% to exceed £40m for the first time in its long history, but profits were hampered by the costs of shelving plans to build a new factory. Click here to read the full story.
Coca-Cola and it largest bottler Coca-Cola FEMSA have agreed to acquire a soy-based beverage business from Unilever for about $575m as the soft-drinks giant looks to diversify from sugary fizzy drinks. Founded in 1988 in Argentina, AdeS is currently available in Brazil, Mexico, Argentina, Uruguay, Paraguay, Bolivia, Chile and Colombia. In 2015, AdeS sold 56.2 million unit cases of beverages and generated net revenues of $284m.
"The acquisition of AdeS marks another milestone for the Coca-Cola system in providing increased choice of nutritious and delicious products to our consumers," said Brian Smith, president, Latin America Group, The Coca-Cola Company. "AdeS is a leading brand in its category and we are very excited to add it to our stills portfolio. This continues our successful joint venture partnerships with our Latin American bottling partners and brings more innovative offerings to our markets."
The transaction has been approved by the boards of directors of The Coca-Cola Company, Coca-Cola FEMSA and Unilever, and is subject to regulatory approvals and customary closing conditions.
Once completed, the AdeS business will become part of the non-carbonated beverage platforms Coca-Cola FEMSA shares with The Coca-Cola Company in its franchise territories. In all other territories, The Coca-Cola Company will work with its local bottling partners to develop AdeS through similar non-carbonated beverage partnership arrangements.
There is also an update this morning on the proposed AIM flotation of private equity-backed toilet paper and tissue maker Accrol Group. The firm revealed in a statement to the London Stock Exchange that it expects to raise about £43m in a placing of new shares and another £20m in the sale of existing shares, valuing the business at about £93m. Lancashire-based Accrol currently manufactures about 17 million units of kitchen, facial and other tissue products per week and
Yesterday in the City
PureCircle (PURE) suffered a torrid day after shipments of its stevia were blocked by US customs over human rights allegations. The business called the allegation "inaccurate" but the share price still plunged 13.2% to 315p in response to the news.
Dairy Crest (DCG) and Ocado (OCDO) had better days, with their respective stocks up 4.4% to 568p and 2.5% to 277.5p. Analysts at Investec highlighted the potential upside of Dairy Crest, which has fallen 16.6% since the start of 2016. Ocado jumped in spite of HSBC issuing the business with a reduce rating and reiterating a target price of 200p, a significant downside from current levels.
Other stocks riding high yesterday included Tesco (TSCO), up 1.7% to 169.9p, Real Good Food (RGD), up 2.9% to 36p, and Greencore (GNC), up 2% to 342.5p.
Woes at Marks & Spencer (MKS) continued, with the share price down another 3.8% to 357p taking the stock to more than 15% lower than a month ago.