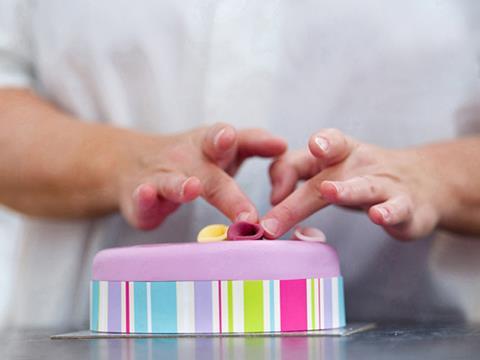 Top story
Speciality baker Finsbury Food Group (FIF) has announced its first half sales remained flat during the six months to 31 December after a "solid" Christmas trading period.
Total group sales for the first half were £156.6m, flat compared to the first half of its previous financial year.
Its UK bakery division declined by 2.9%, with Finsbury blaming "UK retail food market deflation" during the period.
Its overseas division, consisting of its 50% owned European business, grew by 31.7% "continuing to demonstrate the strengths of our strategic diversification".
Finsbury invested £5m in capital projects in the first half of the year to support NPD and drive efficiencies.
The group said this continued investment represents "a fundamental part of the group's long-term competitiveness strategy and it will play an important role in helping address the current challenges of sterling induced commodity inflation and planned national living wage increases."
However, it added that it will have to find ways to mitigate current inflation.
It stated: "The scale of the current cost inflation is such that despite such internal initiatives, further cost recovery will be required and will become inflationary in the second half and beyond."
Finsbury's shares have dropped 1.3% to 114p so far this morning on the update.
Morning update
French hypermarket Carrefour (CA) has posted 3% full-year like-for-like sales growth for 2016 after growing fourth quarter like-for-like revenue growth of 2.9%.
Full-year sales were up 3% LFL and 3.3% at constant exchange (excluding petrol) to €85.7bn.
International sales drove this growth, up 4.9% like-for-like to €45.6bn and 6.3% on a total basis. Domestic French sales were down 0.5% on a total basis, but up 0.3% on a like-for-like basis.
This trend continued in the fourth quarter, with international sales up 6.6% (4.5%) LFL and France sales down 0.3% (up 0.7% like-for-like).
Carrefour said the like-for-like sales increase in France "illustrates the attractiveness of our stores and the strength of our multi-format model".
"Indeed, shoppers using several Carrefour formats already represented half of the total client base and two-thirds of our sales. In addition, the omni-channel approach gained momentum: Gross Merchandise Value of our food and non-food e-commerce activities stood at above €1bn".
Internationally it said it had seen "excellent momentum" in Europe with growth in all countries, further sequential improvement in Asia and had continued strong growth in Latin America.
Carrefour shares are down 1.2% to €22.66 despite the strong sales growth.
Elsewhere this morning, despite tough conditions on the high street, occupancy rose during 2016 with more shops opening than closing as 2016 drew to its end, according to LDC.
At 12.2% in December, Britain's retail vacancy rate fell to its lowest rate since peaking in 2010. The vacancy rate among leisure outlets hit a new high of 8.2%, but the mixture of the two, the retail and leisure vacancy rate fell back to its lowest level for the past four years, at 11.1%
One in nine retail and leisure units currently stands empty. The end-year improvement restarted the gradual reoccupation that began in September 2012 when vacancy stood at 14.6%, but which had been on pause for eight of twelve months in 2016.
Matthew Hopkinson, sales and marketing director at LDC commented: "There is a great deal of life in the high street and our new bulletin brings to light just how lively our retail locations are. There is also a great deal of its opposite, retail death. More than one in ten shop units changed occupant last year.
"The fortunes of our high streets depend on which is the stronger trend, births or deaths. In the summer, closures were more numerous than openings, but in the autumn and winter growth took the lead."
On the markets this morning, the FTSE 100 has slipped 0.3% to 7,228.4pts, wiping out most of yesterday's gains.
Premier Foods (PFD) is down another 2.7% to 41.6p this morning following yesterday's share price collapse (see below). Other big fallers include Real Good Food (RGD), down 5.7% to 33p, C&C Group (CCR) 1.5% down to €3.99 and PZ Cussons (PZC), down 1.4% to 334.8p.
Early risers include McBride (MCB), up 2.5% to 176.25p, McColl's Retail Group (MCLS), up 2.2% to 185p and Conviviality (CVR), up 1.2% to 245.2p.
Yesterday in the City
The FTSE 100 ended the day up once more, 0.4% higher to 7,247.6pts after heavy falls earlier in the week.
However, it was a more sobering day for Premier Foods (PFD), which issued a profits warning amid a slump in branded sales for the 13 weeks to 31 December.
Premier shares crashed 10.9% back to 42.75p, having touched 60p last year when US food group McCormick was attempting to buy the company.
Elsewhere, it was a strong day for large listed grocery groups, with risers including PZ Cussons (PZC), up 2.9% to 339.7, Compass Group (CPG), up 1.7% to 1,449p, Booker (BOK), up 1.6% to 187.7p and Coca-Cola HBC (CCH), up 1.5% to 1,806p.
British American Tobacco shares were higher after its £40bn Reynolds acquisition was confirmed earlier in the week, rising 1.2% to 4,634p. Other major players on the up included Diageo (DGE), up 1.4% to 2,161p and Greencore (GNC), up 1.3% to 242p.
Conviviality (CVR) also had a good day, up 3.8% to 242.3p, as did Just Eat (JE), up 3.4% to 536p and FeverTree Drinks (FEVR), up 1.8% to 1,125p.
Amongst the day's few fallers were McBride (MCB), down 2.8% to 172p, Dairy Crest (DCG), down 1.8% to 620.5p and WH Smith (SMWH), down 1% to 1,540p.