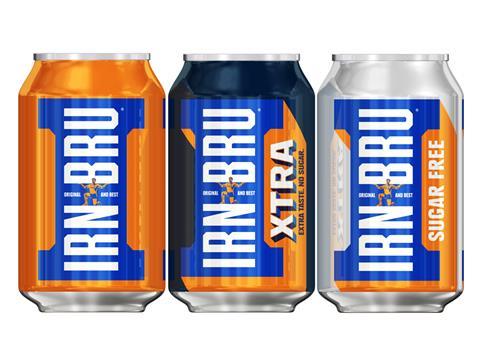 Top story
Price inflation and the reformulation of its Irn-Bru and Rubicon range helped AG Barr (BAG) boost sales during the first half, but increased brand investment and other cost pressure squeezed margins at the soft drinks producer.
Total revenues rose 8.8% to £136.6m in the six months to 29 July 2017 as it maintained the momentum of the second half of the previous financial year, a significant outperformance of the overall soft drinks markets, which only registered value growth of 4.2% during the period [IRI].
The strong brand performance across AG Barr's portfolio was supported by the continued success of last year's new product launches, such as Irn-Bru Xtra and Rubicon Spring, the company said.
Innovation drove new distribution and attracted new consumers to the brands in England and Wales, and in the core Scottish market Irn-Bru performed "particularly strongly", with the broadened no-added sugar range adding incremental sales, AG Barr added.
The Funkin cocktail mixer business also continued to grow, with revenues up 31% in the period, benefiting from increased cocktail consumption, wider product distribution and further product innovation.
However, the increased brand investment, along with sector cost pressures related to the ongoing weakness of sterling, led to a moderate reduction in margins from 13.9% to 13.2% in the half.
The business offset some of the extra costs thanks to its company-wide restructuring last year and pushing through price increases.
Pre-tax profits before exceptional items increased by 2.9% to £17.5m, but were down 8.1% to £19.4m on a reported basis.
CEO Roger White said: "The strong sales momentum of the second half of last year has continued and has combined with significant progress from our innovation to deliver strong sales growth and market share gains in the period.
"While we maintain tight cost control across the business, we have increased investment in the support of our brands and innovation launches and expect to continue this across the full year. Our reformulation activities remain on track as we move into the final implementation stages of this initiative in what will be a busy second half.
"Although the soft drinks market has been impacted negatively in the short term by the mixed weather since late July, assuming market conditions across the balance of the year are reasonable, the company remains on course to meet the board's expectations for the full year."
Shares in AG Barr are up 0.3% to 616.5p so far this morning.
Morning update
At its investor seminar today in London, Nestlé will present its strategy for sustainable value creation. The company will detail how it will reach its mid-single digit organic growth target by 2020, and will announce an underlying trading operating profit margin target of 17.5% to 18.5% by 2020, up from 16.0% in 2016.
It is the first time the Swiss food giant has set a target for profit margin growth, signalling a shift from its traditional sales-focused model as it reacts to competitive pressures facing the group and its peers globally.
Nestlé will describe its plans to accelerate organic sales growth, building on its industry-leading volume growth, by capitalizing on recent key consumer trends in categories and markets around the world. Food and beverages remain core to the company's strategy, with a continued focus on nutrition, health and wellness enabling the company to meet changing consumer demands. Nestlé's strategy balances growth with increased cost discipline and margin expansion as well as improved capital efficiency.
CEO Mark Schneider said: "Nestlé has a strong foundation, a clear path forward and a bright future. We have a proven track record of delivering sustainable, industry-leading performance. In line with today's accelerating pace of change, we are intensifying our focus on innovation, operational efficiency, and portfolio management. We will grow by remaining at the forefront of consumer trends and offering the brands and products to meet people's changing needs, especially their demand for a better, healthier life."
Yesterday in the City
It was a fairly quiet day in terms of grocer news flow on the London Stock Exchange and a mixed day for the listed grocers as Aldi reported record sales but a third consecutive year of declining profits.
Sainsbury's (SBRY) closed 0.7% higher at 235p, while Tesco (TSCO), which is under the media glare as its former executives stand trial for fraud, fell 0.5% to 183p, and Morrisons (MRW) was down 0.3% to 234p. Ocado (OCDO) made back some of last week's losses, rising 0.6% to 283.9p.
WH Smith (SMWH) increased 1.3% to 2,025p, along with a 1.3% rise for Dairy Crest (DCG) to 625.5p and a 1% jump for Greggs (GRG) to 1,220p.
PureCircle (PURE) and Science in Sport (SIS) were also among the day's winners, up 4% to 508.5p and 3.6% to 73p respectively. And Irn-Bru maker AG Barr nudged 0.6% ahead to 614.5p before this morning's results.
PZ Cussons (PZC), Cranswick (CWK) and Associated British Foods (ABF) all closed in the red, down 1.3% to 325.3p, 0.9% to 2,939p and 0.5% to 3,206p.