If Dave Lewis were under any misapprehensions as to the size of the challenge at Tesco, his first week will no doubt have set him straight.

Lewis found himself in the hot seat a month early after the supermarket's shock profit warning and 75% cut to its interim dividend on Friday caused the board to hit fast-forward on the transition from Philip Clarke. Over the past week, the market has left him in little doubt on the need for radical change. Tesco opened almost 8% down at 227p on the morning of its surprise announcement and recovered little during Lewis' first week to remain at 229.5p by Thursday lunchtime.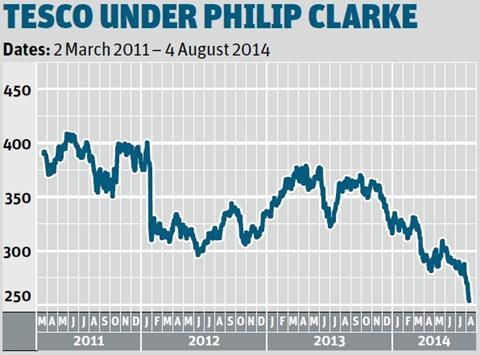 Tesco's momentum wasn't helped by a downgrade from 'buy' to 'hold' by Deutsche Bank, citing "low visibility as to potential changes and their implications," while analysts at Espirito Santo Investment Bank cut their price target for the shares to 190p from 265p on Monday.
The beleaguered retailer also received a broadside from one of its biggest investors, Harris Associates, which sold off half its shares and blasted Tesco for it "incoherent strategy" with "unclear management direction."

Tesco made a modest recovery to close on Wednesday at 232.6p, but investing in Tesco currently looks like a classic case of catching a falling knife. Bernstein analyst Bruno Monteyne warned "we haven't seen all the bad news yet" as he expects further kitchen-sinking post-Christmas with "one more important profit drop to come."

Tesco's woes took down the rest of supermarkets, with Morrisons 6.7% down to 174.4p on Thursday compared with its close price before the profit warning, while Sainsbury's was 3.2% down to 294.3p over the same period.

Ocado also had a torrid week after a dramatic downgrade by Redburn last week, losing about one-fifth of its value to fall to 321.3p after the broker called into question the value of its technology. Ocado chose not to respond, but expect it to strongly defend the value and scale of its proprietary tech in its trading update next week.