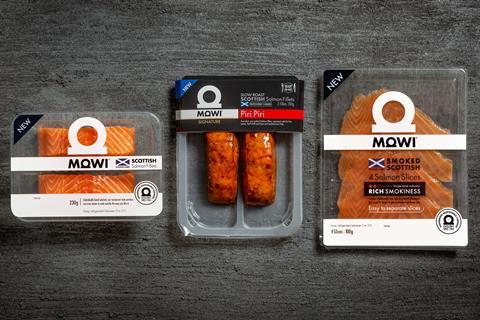 Major global seafood firm Mowi has launched its consumer brand into the UK for the first time.
Available in Sainsbury's stores from today (24 March), the three-strong line-up of chilled Scottish farmed salmon products were said to be "affordable premium" options by Mowi.
The NPD trio consists of: Smoked Scottish Salmon Slices (rsp: £5/100g), which are said to offer a "rich smokiness" derived from the use of oak chips during the smoking process; piri piri-flavoured Slow Roast Salmon Fillets (rsp: £5/180g) that come ready to eat and promise to be mess-free; and Scottish Salmon Fillets (rsp: £4.50/230g) which are said to have been filleted in a way that reduces wastage.
Mowi said the launch would tap into what it perceived to be an increasing desire for chilled fish at in-home dining occasions among time-poor consumers, as well as the continued demand for healthy products in the wake of Covid-19.
"We are investing in Mowi to play a dynamic role, inspiring new consumers to eat salmon on new occasions and to inform consumers that not all salmon are equal. Retailers who support the Mowi brand will inevitably benefit from a halo of the brand driving traffic to stores," said head of sales for Mowi Consumer Products, James Cowan.
"We believe we have a fantastic range of salmon lines that will stand out on retailers' shelves. The products are packed to show the top quality, which will be attractive to both new and existing seafood shoppers."
Mowi said it would support the launch with a marketing campaign spanning TV, social media and print. The advertising would focus on the "guaranteed quality of Mowi products" and health benefits of salmon, it said, and would be joined by additional campaigns throughout 2021.
The Norway-based seafood company, which was previously known as Marine Harvest, already holds own-label contracts across the mults, including at Sainsbury's.
It first launched its masterbrand in 2018 in a bid to provide consumers with taste, convenience, nutrition and traceability. Since that launch, it had only been available in France, the US and Poland, but Mowi said it was now looking to expand into other countries.
Fresh seafood sales recorded stable growth during 2020, rising 2.5% (£45.2) to £1,869m and adding 3.6% in unit sales, according to The Grocer's Top Products survey.
Salmon – the largest segment in chilled seafood – made up a large part of the value increase, adding £29.8m (+3.7%) to reach an overall market value of £826.5m.