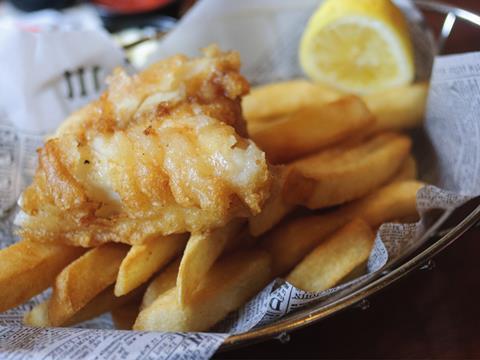 Speculation was growing this week that the government was planning to reinstate the planned tariff on Russian-caught white fish it postponed at the start of April.
Several industry insiders told The Grocer a decision was "imminent", with one suggesting the tariffs could "make cod and chips more expensive than wagyu beef", and another predicting they could be brought in as early as this week.
The introduction of 35% in additional duties on all imports of Russian white fish was announced on 15 March, along with tariffs on a raft of other food and drink as part of the UK government's package of sanctions following Russia's invasion of Ukraine on 23 February.
But just over a fortnight later, following "panic" within the sector over the likely impact on supply and pricing the tariffs could have, the government confirmed it had been postponed, with no set date for future implementation, though it stressed it still intended to introduce the tax, which was "subject to further work on the specific implications for the sector".
The UK seafood sector had already started to prepare for the tariffs, with many companies already moving away from sourcing fish caught in Russian waters – driving up prices of non-Russian cod and limiting availability, one industry insider suggested.
This meant suppliers were having to make choices about which contracts to fulfil, creating uncertainty across the sector, they added, while availability issues were making it "impossible to plan" as cod orders kept falling through.
The industry source warned the imminent full implementation of the tariffs would only "put more pressure on an already pressurised supply point".
"We are seeing very good demand for Norwegian seafood at the moment," said Hans Frode Kielland Asmyhr, UK director of the Norwegian Seafood Council, who added that while the NSC was delivering seafood to the UK as normal, there was now significant pressure on tightening supplies and growing competition.
Andrew Crook, head of the National Fish Friers Federation said that the impending tariff would join the list of rising costs on the sector that was driving shop owners to illegal activities such as a lowering wages and not paying enough tax, to keep costs down. He described it now as a "race to the bottom" as "better shops will have to cut back".
Asmyhr added that rising costs were a continuing issue for the fish industry and that prices would have to rise in order to accommodate these. Consumers would soon start seeing a fillet of salmon as the same quality as a "prime fillet of beef", he suggested, due to rising prices.
The solution for fish sellers could be looking closer to home for white fish, Jamie Peers of Doncaster fish market-based supplier The Gentleman Fishmonger suggested. "For the white fish market, we have to try and produce and secure better relationships with our suppliers when we look to the future," he said.
"The fish are there it is just about going out and making it readily available and passing it on to the consumer."
Another solution was to look beyond white fish and wet fish as a product, said Sarah Wilton of the same company, who said that "for fishmongers to survive they have actually got to bring in other things to compensate a lot of the other areas where there are price increases."
Defra told The Grocer it was expected in due course but its preparation work on the tariff was still taking place.
A Seafish spokesman said: "We would expect that once that work concludes ministers will look to implement the tariff as originally planned."