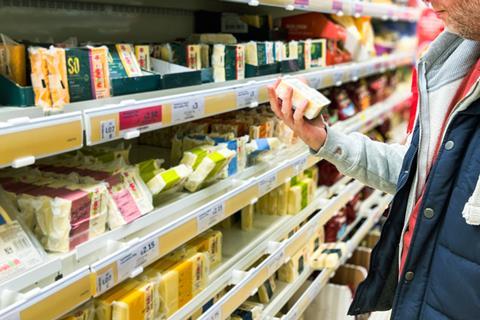 Mature cheddar has become the latest product to see big price cuts across the major supermarkets, analysis of Assosia data for The Grocer's latest Key Value Items tracker has shown.
Own-label 400g mature cheddar cheese lines saw their prices slashed in Aldi, Lidl and Tesco last week.
Aldi and Lidl cut their prices by 14p (or 5%) to £2.55 whilst Tesco dropped the price of its line by 20p to £3, representing a 6% reduction.
The price cuts follow similar drops in other retailers in recent weeks. Sainsbury's was the first to cut the price of its own-label 400g cheddar cheese on 23 August by 20p (or 6%) to £3. Asda sliced the price of its comparative product on 24 August by the same amount.
As a result of these deflationary prive moves, the average price of a block of own-label mature cheese 350-400g across Asda, Morrisons, Sainsbury's, Tesco, Waitrose, Aldi and Lidl has now fallen by 5% since last month, though they remain 7% higher year on year.
Own-label cheese has been experiencing deflation since May, when prices dropped from a peak of £3.18 per 350g-400g pack on average, down to £2.99 by the end of August. Before May, cheese had been experiencing inflation with a series of price hikes.
Cheese prices have followed a few months behind the trend of milk, which saw shelf edge prices start to fall on 12 April. Last year, milk saw prices rise to record levels, which stabilised from mid-January.
The price of two pints of own-label milk fell to an average of £1.21 by the end of August, down from a high of £1.31, but still more expensive year on year when compared to £1.17 at the end of August 2022.
The price of milk has been under scrutiny in recent months with concerns that milk prices do not reflect the real costs of production for farmers.
Research by the NFU in August revealed almost a tenth of Britain's dairy farmers expect they will end milk production within the next two years, citing concern over feed and energy prices as an issue as well as cashflow and environmental regulations.
Last week, Sainsbury's announced it would add 1p per litre to its milk price from next month in recognition of the difficult conditions facing dairy farmers.