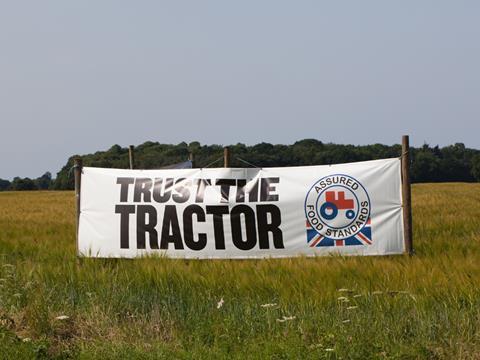 What does the Red Tractor assurance mark actually stand for? After a series of food safety and animal welfare breaches at Red Tractor-assured businesses, it's a question many have been asking.

Red Tractor CEO Jim Moseley insisted the scheme was "uniquely positioned" to be the flagship for British food and farming after Brexit in his submission to Defra's Health and Harmony consultation in May.
But those comments, and his bullish call for the government not to "reinvent the assurance wheel", will no doubt be ringing in his ears this week after the scheme hit the headlines - and not for the first time this year - for all the wrong reasons.

On Monday, The Times denounced Red Tractor's 'slaughtered reputation', as it highlighted an investigation by animal welfare group Animal Equality that uncovered a litany of alleged animal welfare breaches at a Red Tractor-assured pig farm in Bedfordshire.

Despite the farm passing a series of arranged inspections this year, undercover filming by Animal Equality revealed what it claimed were "inhumane" conditions, with dead piglets littering farrowing sheds, and live animals trapped alongside the dead, while staff administered electric shocks using goads, which are banned under Red Tractor regulations.

Red Tractor moved swiftly to expel the farm. However, the report also revealed the staggering claim that just 50 of the body's 60,000 farm inspections last year were unannounced.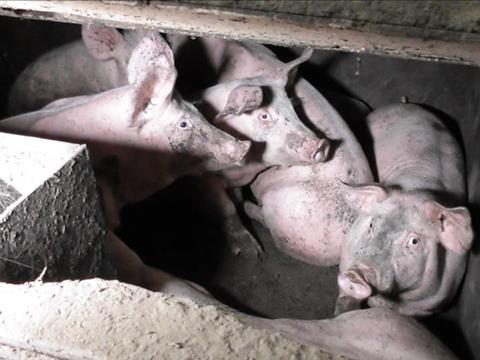 Red Tractor's year of woe

This 'lax regime' represented just 0.08% of the total inspections it undertook at its 46,000 assured farms last year, The Times reported, raising questions over just how much oversight The Red Tractor scheme and its parent, Assured Food Standards, have over on-farm animal welfare conditions.

So how likely is it that the latest exposé stemmed from an isolated episode in an otherwise "robust" regime, as Red Tractor also claimed this week? And how can trust be rebuilt?

With mounting pressure from the likes of Compassion in World Farming and the BRC to make improvements to its compliance processes, Red Tractor also conceded unannounced inspections were "something shoppers would like more of", and pledged to investigate ways of increasing their use by 2019.
But question marks surround the efficacy of the scheme's audit regime, suggests Association of Independent Meat Suppliers policy director Norman Bagley. "Third party audits, which are often subcontracted out anyway, have suffered a number of significant blows in recent months from several incidents," he says.

"Those incidents highlight something that a number of us have been worried about for years, which is that the auditors concentrate far too much on paperwork and far too little on animal wellbeing."

However, National Pig Association CEO Zoe Davies stresses the majority of the scheme members "do a good job", adding "it's important to recognise these incidents are from a few rogue operators".

It's a sentiment shared by Aldi's UK & Ireland CEO Giles Hurley, who argues The Times article will not have done "irreparable damage" to Red Tractor. "We've had a tie with Red Tractor for some time and it forms part of our British credentials," he says. "It's a hugely important organisation in terms of giving peace of mind and credibility to British meat."

Short notice

Moseley insists the auditors are well trained, that Red Tractor's standards compare favourably to anything the rest of the world can provide, and its reputation can be revived.

While unannounced audits represent a tiny proportion of the scheme's total audit regime, Red Tractor undertakes a far greater amount of prearranged "short notice" farm audits "where we literally give notice afternoon or evening before the next day", Moseley says. "We suspended 1,800 farmers last year and expelled more than 200," he points out.

While reiterating that increasing unannounced audits will be a priority, he cautions there could also be challenges around the practicalities of doing so.

"Food manufacturers will be used to unannounced visits, and it's something we would like to do more of in the farming sector," he says. "But some of the farms we deal with are extremely small. If we send an inspector to the farm there is cost to that, borne by the farmer, and if he is away in the hills looking after the sheep you could be looking at delays."

A typical inspection costs as much as £250 and lasts between three to five hours, so if the farmer isn't ready, "we could see that audit time double, while costs would increase substantially", Moseley adds.

"This would probably ensure more compliance but we have to be aware that we could be putting a lot more cost into the food chain," he warns. At a time when margins are thin, that would go against Red Tractor's stated aim of offering "safe and affordable food for all".

Red Tractor has been working on ramping up its use of real-time data from farms, using technology such as blockchain. It's also developing new systems to improve intelligence sharing, and later this year it's due to reveal a new "risk-based approach" to auditing.
"With this approach, there will inevitably be a batch of farms and growers that we will visit more frequently," Moseley says. "Unannounced audits will form a much bigger part of that regime, and we will focus on where our risks are and develop our inspection regime specifically in that area to ensure greater compliance."

The scheme will come with a major marketing campaign in September aiming to highlight what the standard stands for.

"Around 62% of shoppers will be aware of the logo and a good proportion will know it means something positive," he says. "But many more can't answer what we do stand for."

After recent developments, getting that particular message over to consumers could prove Moseley's biggest challenge.